Feeling the pinch this Christmas season? Between gift shopping, dinner planning and last minute meet-ups with friends that somehow have to happen before Christmas, you're not the only one who's cash-strapped.
Luckily, Morrisons has stepped in to ease the pain. Last month, the retailer began offering budget Christmas dinners for groups who are holding on tight to their purse strings this season. For just £7.50 a head, groups of up to 20 can treat themselves to a traditional three-course Christmas dinner, a fully decked-out table at a prime spot in a Morrisons café and, of course, a Christmas cracker.
Sensing an opportunity to have the most on-brand Christmas party we could possibly have, The Grocer team got booked in for the full festive works at Morrisons Oxted. Here's what we thought.
The Morrisons Christmas Café Menu
Starters:
· Fresh Soup
Fresh soup served with a freshly baked bap.
· Pâté & Melba Toast
Brussels pâté served with balsamic onion chutney, salad and Melba toast.
· Prawn Cocktail
Prawn cocktail served with salad and brown bread.
Mains:
· Christmas Turkey Lunch
Turkey, roast potatoes, mash, carrots, Brussels sprouts, stuffing, Yorkshire pudding, pig in blanket, gravy and cranberry sauce.
· Mushroom Wellington
Mushroom Wellington served with golden roast potatoes, Brussels sprouts, carrots and drizzled with gravy.
· Salmon with hollandaise
Salmon fillet topped with hollandaise sauce. Served with baby potatoes and peas.
Desserts:
· Christmas Pudding
Christmas pudding served with brandy sauce or custard.
· Kelly's Ice Cream
Chocolate or Strawberry.
There's a lot to like on this menu. It's very traditional (even retro in parts – we're looking at you, prawn cocktail) and will cater to many dietary requirements including vegetarians and those on a gluten-free diet. Vegans would struggle, however.
On the turkey dinner, the mention of a singular pig in a blanket provoked some concerns, However it was satiated by the inclusion of not one but two potato sides, deemed "a classy move" by the team.
In the end, no one on the team opted for the salmon hollandaise as it wasn't "very Christmassy", but its position on the menu was respected as a gluten-free, pescatarian-pleaser or an option for those who can only stand to eat one Christmas dinner a year.
Atmosphere
Having a Christmas dinner surrounded by people doing their weekly shop is an odd concept. Tthere was a little bit of confused staring from the regular clientele.
However, that was minimised by the positioning of our table. It may have been in the centre of the café but it was surrounded by panelling, which gave it a restaurant booth feel and gave us a bit of privacy from passing shoppers.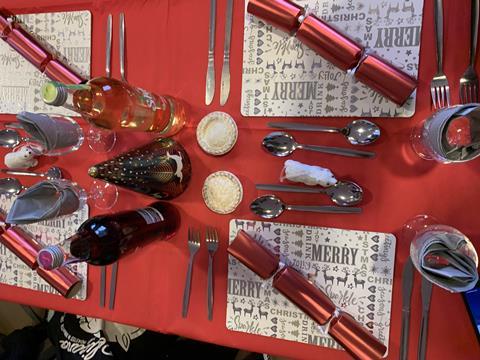 The table itself was a great example of decorating on a budget, with Christmassy biscuit tins, tree decorations and mince pies all put to good use at each place setting.
Overall, the experience didn't feel too strange. Despite being a booze-free meal, the team was able to overcome any initial awkwardness and, before long, began to pull crackers and tell the obligatory terrible jokes.
Meal
This meal was excellent value for money. Even though the café kitchen isn't used to doing large groups at once, everything came out well presented, exactly as we ordered and at the right temperature. The portions were generous, the quality was decent and everything tasted great.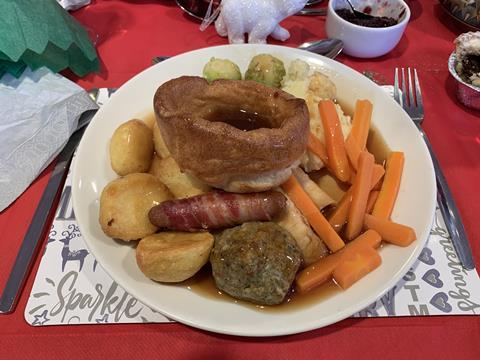 The starters were simple but delivered on all counts. The soup was an undisputed crowd-pleaser: a Heinz-esque cream of tomato job. Meanwhile, the pâté was found to be the same quality of a decent own-label offer and the prawn cocktail came with a "cute" side of buttered brown bread sliced into triangles.
The turkey dinner also earned praise for being "moist", "well put together" and "great double potatoes". The solo pig in blanket also came into its own, as the team agreed its generous size made up for its lack of companions. The veggie option also impressed, described as "well-seasoned" and "hearty" with "buttery, flaky pastry".
Keeping it simple on desserts also paid off. The Kelly's ice cream was a big hit and the chocolate option even came with a drizzle of caramel sauce. The Christmas pudding was as all good Christmas puddings should be: packed with fruit and generous on the stodge factor.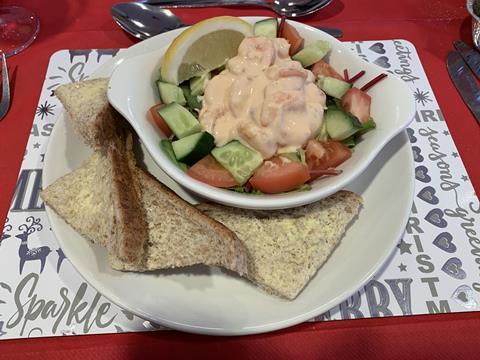 Service
The service from the staff at Morrisons was probably our favourite thing about the entire meal. As previously mentioned, the cafés are not used to catering for large groups, and they also don't usually do table service – but we couldn't fault the attention and care given. Everyone we spoke to was warm, friendly and waved us off with a "merry Christmas!" at the end.
Verdict
At £7.50 for three courses this offer is an absolute steal – you'll pay a lot more for a lot less elsewhere. Swapping table wine for Shloer makes it a slightly unusual option for an office Christmas party but it would be an ideal venue for a modest lunchtime celebration with community or hobby groups like book clubs.