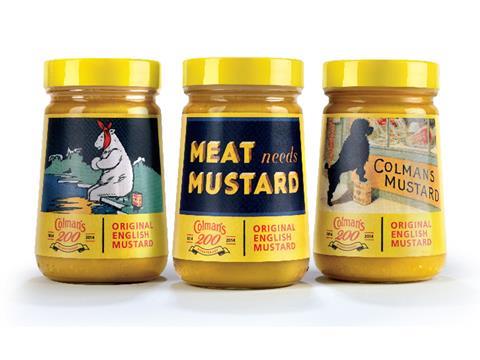 Colman's Mustard is rolling out vintage mustard jars to celebrate its 200th anniversary.
The limited-edition jars, which are available now (rsp: 99p/100g and £1.59/170g), have been inspired by its collection of historic advertising posters. They draw on its links to the butchery trade and mustard's perceived medicinal qualities.
Brand manager Lola Danlos said the new packs highlighted the heritage and personality of the brand. "We hope the vintage labels rekindle the charming history of Colman's and remind us all why it remains one of Britain's most famous and loved brands today."
The brand, which is owned by Unilever, was created in Norwich in 1814 and its founder was later appointed mustard maker to Queen Victoria.
The falling volume sales of condiments slowed last year, but the brand still saw a slight decline in volume, down 2.3%, on value sales down 0.4% to £17.3m [Nielsen 13/10/13].