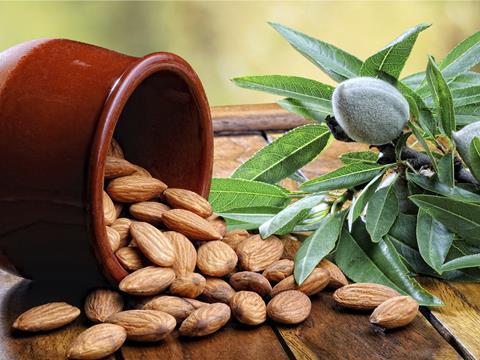 Producers of almond-based products are being warned they may need to shell out more for their key ingredient.

Brands such as Alpro and Hain Daniels' Almond Dream - and the growing number of non-peanut nut butters - have raised the profile of almonds and are winning over health-conscious consumers. But suppliers are facing higher prices as a result of severe drought faced by 78% of key growing area California.

This has pushed the average annual price of almonds up from £4/kg in 2012 to £5.50/kg in 2014, an increase of 38%. And prices rose sharply towards the end of 2014 to more than £6.50/kg in December, up 25% year on year. The current price trend started in September 2014, when lower crop estimates for the 2014/15 season forced prices up 18% in a month. Production in 2014/15 is now expected at just 840,000 tonnes, down 8% on last season's crop and below the previous estimate of 950,000 tonnes. While buyers have resisted paying the current high prices, opting to deplete inventories, growers are unwilling to lower prices until they know more about next season's crop. With prices of other nuts also rising - as is consumer demand - buyers may have no choice but to pay the higher price.

Although there was some rainfall in December, more rain and snow in the Sierra Nevada will be needed in upcoming months to fill the depleted reservoirs. No other crop in California generates larger revenues than almonds, which in 2013 amounted to nearly $6bn, with about 65% of production exported, 45% of that to Europe.

All eyes will now be turning to the weather forecasts. With the almond bloom only a few months away, the drought will be monitored for its potential effects on 2015/16 production.