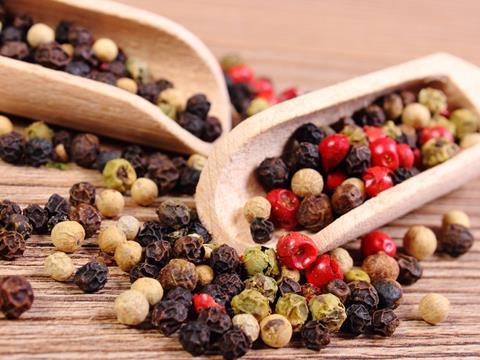 Food manufacturers face paying more for black pepper - with a blip in Indian production putting pressure on supplies and pushing up global commodity prices.

Prices for Indian black pepper have surged 13% since February, with production down after the country was hit by dry weather conditions following an erratic monsoon season last year [Mintec].

Indian black pepper production is expected to reach just 50,000 tonnes this year, down 25,000 tonnes from last year, says Corrina Hutchings, market analyst at Mintec, who adds prices were further aggravated by low pepper inventories and expectations of limited carryover stocks.

High prices in India are having a knock-on effect on black pepper prices in Vietnam - the world's largest black pepper producer and exporter - which have increased 12% since mid-May. Early estimates have recorded the 2016 Vietnamese harvest at 160,000 tonnes, up 23% year on year, but farmers in Vietnam are unwilling to sell their stocks in the hope of increasing revenues further, says Hutchings.

Vietnamese black pepper prices have also been pushed up by problems with pesticide residue on crops, which has reduced the amount suitable for exporting to the EU, says Christine Peers, sales director at EHL Ingredients, which sources most of its black pepper from Vietnam.

Prices for Vietnamese black pepper are expected to remain high for the rest of the year, she warns. "The exchange rates post-Brexit are also set to impact the cost of importing ingredients, following the fall of the pound."

Indian black pepper prices are also expected to stay high, with a forecast La Niña weather pattern potentially causing heavy rain in the country and causing further crop damage, Hutchings adds.