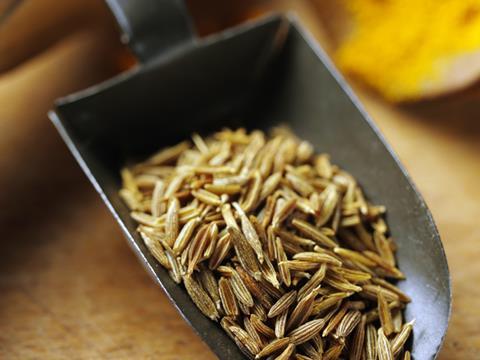 Curry fans beware: cumin prices have soared to a two-year high as extreme weather compounds reduced sowing.

Prices have risen 11% month on month and are up 5% year on year to £1.33/kg - the highest since late 2013 - amid fears total planted area for cumin will be down as much as 30% this year. This follows high temperatures delaying sowing in India, which is responsible for about 75% of global cumin production.

In the major growing region of Gujarat, sowing is down 41% year on year. This has prompted predictions that this year's harvest - due in March - could be a third smaller than average, and half the size of the bumper harvest in 2014. Last year's strong yields - and consequent drop in price - has also prompted some growers to abandon the spice in favour of more profitable crops such as coriander and fenugreek.

"Farmers are getting financially stronger by choosing which plants to sow and when to sell, holding on to stocks until they find price levels attractive," said Branka Veljovic, spices sourcing manager at European spice supplier Santa Maria.

The situation was likely to put pressure on margins, warned spice supplier Sleaford Quality Food, which does not purchase cumin from India and warned those that do could face difficulties. "The later, hence shorter, harvest of cumin in India will likely impact prices throughout the supply chain in the coming months," said marketing manager Richard Oke.

Ingredients business EHL said supplier relations would be crucial to controlling prices. "We source our cumin from long-standing suppliers in India and Turkey, and our strong relationships and advance purchasing allow us to control our prices," added sales and marketing director Tasneem Backhouse.

One factor in buyers' favour is that demand for cumin - an integral part of Indian cuisine as well as Mexican, North African and Middle Eastern dishes - tended to be steady with no major swings in demand from year to year.

And it is believed the price spike has reached its peak. January is bringing cooler conditions that are likely to limit further price increases as sowing picks up again, though harvest could be delayed to allow sowers time to catch up.