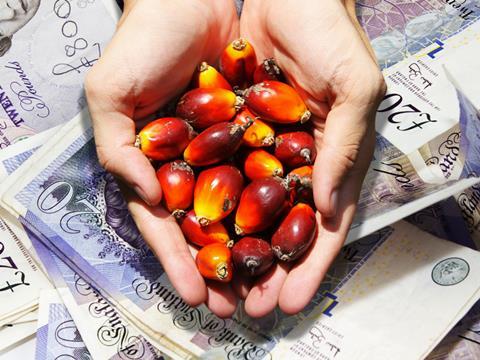 The option of using palm oil to produce the Bank of England's new £20 note might have proved controversial, but it has become a cheaper one following a 20% drop in the cost of the commodity over the past three months.

The price of palm oil per tonne has fallen 18.2% from £643.60 to £526.30 since January, according to Mintec data, although it remains fractionally higher year on year.

"Palm oil prices have declined since January, due to anticipation of recovering production later this year and falling prices of competitor, soyabean oil," says Mintec analyst Jonathan Stokes.

Production levels affected by El Niño in South East Asia have slowly begun to recover, says Stokes. Global production of palm oil is now forecast to be up 9% year on year to 63.9 million tonnes in 2016/17.

"In addition, soyabean oil production in 2016/17 is forecast up 5% year on year at 54.5 million tonnes," Stokes adds.

However, the Bank of England - which is considering palm oil for its new £20 after facing criticism for using animal fats in the polymer £5 notes released in September - might have to shell out for sustainably sourced oil it wants to keep environmentalists happy.

Campaigners at the World Wildlife Fund warn demand for palm oil is set to double by 2050, and satisfying that demand could come at a cost.

"The bank must only source Roundtable on Sustainable Palm Oil-certified sustainable palm oil or none at all," says Dr Emma Keller, agriculture commodities manager at WWF.

The European Parliament this week voted in favour of a report calling on the EU to develop an action plan on deforestation. MEPs also called for the phasing out of palm oil in biofuels by 2020 at the latest, and put pressure on existing sustainability schemes to improve their standards.