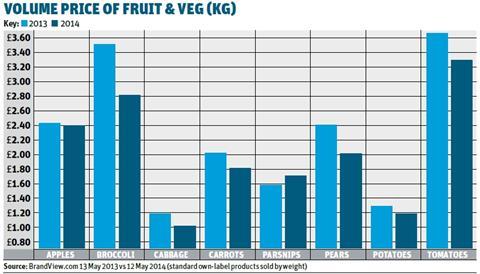 A price war is rarely a good thing for grocery suppliers - but could end up being a boon to the nation's Health.

With fresh produce one of the key battlefields, many key fruit and veg lines in the big four are considerably cheaper than they were a year ago.

Looking at standard own-label produce sold by weight, the average kilo price of fresh veg has fallen 3% from £4.39 this time last year to £4.25 [BrandView.com 13 May 2013 vs 12 May 2014], while fresh fruit is down 2% from £4.54 to £4.45.

Some of the steepest declines have been on products regularly featured in retailers' advertising since the start of the price war - including carrots, broccoli and onions. Carrots fell from £2/kg in May 2013 to £1.79 - a total drop of more than 10%. Broccoli has fallen even more - down 20%/kg year-on-year to £2.80 - and onions 8% to 76p. The average price of a kilo of standard own-label potatoes has fallen from £1.26 to £1.15, with a kilo of budget own-label spuds static at 56p. Cabbages and cauliflowers are also cheaper, with a single cauli down from £1.60 to £1.22.

Consumers can also enjoy lower prices on salad. The average price of a whole or half cucumber has dropped from 54p to 41p. A kilo of tomatoes is down 10% to £3.29 year-on-year, while premium own-label tomatoes have fallen from £6.76/kg to £6.05.

And shoppers are saving a massive 44% on iceberg lettuce, although this may be as much due to better supply compared with last year - when cold weather hit harvests here and in Spain - as it is to the price war. Icebergs are currently 66p each on average versus £1.18 a year ago. Improved supply compared with 2013 may also be a reason for lower pepper prices, with single peppers currently 68p, 12p lower than a year ago, and the kilo price is down 3.5%.

Prices have risen for some fresh produce, however, with parsnips up 8% year-on-year to £1.68/kg, and mushrooms up fractionally to £4.15/kg.