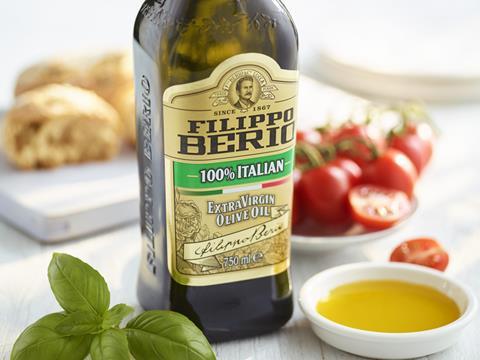 Sainsbury's has ramped up its prices for olive oil in the run-up to Christmas.

The retailer this week hiked prices on 21 SKUs across own label and brands, pushing the average cost of olive oil in its stores up 2% compared with the previous week.

It has added 10p to a number of own label bottles, including 250ml olive oil - now £1.35 - and two-litre olive oil - now £7.20. A 500ml bottle of Premium Toscano Extra Virgin Olive Oil is now 50p more expensive in Sainsbury's at £6.50.

Meanwhile, 750ml bottles of Filippo Berio olive oil are now 20p pricier at £5.95, while 750ml bottles of Napolina olive oil are up 10p to £5.60.

These latest price hikes on olive oil follow earlier increases by Sainsbury's and other major supermarkets in January 2017 in the face of surging commodity costs driven by poor harvests and the crash of the pound after the Brexit vote in 2016. Commodity prices hit even higher peaks this year, with Italian extra virgin hitting £4,883 per metric tonne in July 2017, up from £2,655 in January 2016 [Mintec].

"The cost of individual products is determined by a number of factors and prices can fluctuate, both up and down, as a consequence," said a Sainsbury's spokeswoman. "We remain committed to providing our customers with great quality and value every time they shop with us."

Commodity prices have started easing as the flow of new season olive oil commences, with December/January costs currently lower than October/November, according to industry sources.

However, they remain "relatively high" and will likely stay firm throughout 2018 due to increasing concerns over the Spanish crop, which has been revised down to 1.1 million tonnes following a lack of rain in southern Spain.