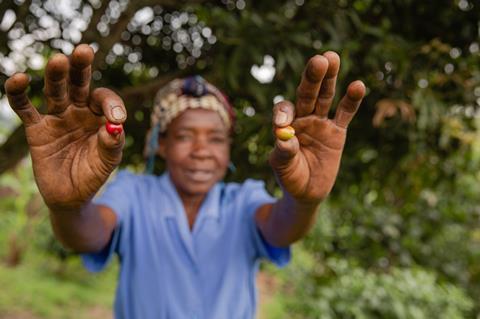 A group of eight senior businesswomen from the UK food and farming industry is heading to Kanungu, western Uganda to raise £75,000 for international NGO Farm Africa by planting 1,000 trees on a coffee farm.
As part of the 'Thousand Trees Challenge', the group, which includes Rachel Baldwin, HR director at Tulip, Frances Swallow, Group Technical Director at Finsbury Foods, and Sarah Louise Fairburn, brand and sales director at L J Fairburn & Son, will plant 1,000 trees in just three days to raise the funds.
The trees will include avocado, jackfruit and mango, and will be planted on more than 80 acres of coffee farmland to boost soil quality and food security, and provide the Arabica coffee plants with shade.
Coffee is Uganda's most valuable crop, with the majority of the country's beans ending up in the cups of European coffee drinkers. But despite coffee's profit-making potential, many of Kanungu's coffee farmers struggle to make ends meet.
As part of the challenge, group will also participate in a 'Coffee Walk' alongside local farmers, to draw attention to the plight of many female coffee workers in Africa. Currently they do up to 65% of the labour in the Kanungu coffee value chain but receive very little of the profits.
In 2018, with co-funding from the European Union, Farm Africa started supporting 4,800 coffee farmers in Kanungu by offering training in the sustainable production of high-quality coffee so that they can meet lucrative coffee markets' high standards.
A new phase of the project, funded by UK government matched funding for Farm Africa's recent Coffee is Life appeal, launched in September 2019 and focuses on providing women in Kanungu with the support they need to increase their incomes and earn a fair share of profits from coffee.
Fairburn said: "As someone who is very involved in promoting and encouraging women and young people in food and farming in the UK, this really resonated with me.
"Our aim is to plant one thousand trees and raise imperative funds which will support Farm Africa's ongoing work to help these farmers grow and sell more for a higher price, for a profit.
"Coming from a proud British family business, I understand the importance of ensuring sustainability for future generations; our work will help combat the environmental challenges for years to come and will help empower women and young people to ensure fair and sustainable farming."
The challenge, which starts 13 October, is one of the events organised this year as part of Farm Africa's 'Food For Good' network.
Support the team here: www.justgiving.com/teams/thousandtrees