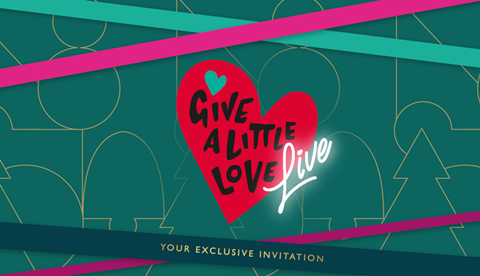 The John Lewis Partnership (JLP) is hosting an online entertainment show this week to help raise funds for its Christmas charity campaign.
Give A Little Love Live will showcase members of the community who have shown kindness this year, and will feature live music and a quiz with prizes worth over £5,000 each.
One member of the community who will be surprised during the event is a headteacher from a school in north-east England who delivered food to students' homes during lockdown to ensure they had a nutritious meal.
JLP also plans to give three viewers a festive food hamper in recognition of acts of kindness they have carried out. Employees will deliver the gifts to the customers based in Bristol, Glasgow and London live during the show while adhering to social distancing protocols.
Attendees will be encouraged to donate to JLP's charity partners food redistribution charity FareShare and family support organisation Home-Start throughout the event.
Give A Little Love Live will be hosted by comedian Jason Manford and presenter Konnie Huq from a London TV studio and various celebrities will make virtual appearances.
The free show will air on John Lewis' website on 18 December at 6.30pm and it is only accessible to MyWaitrose and MyJohnLewis loyalty cardholders.
Some 25,000 households have already reserved their tickets.
JLP is striving to raise a total of £5m to provide meals and support for at least 10,000 families through Christmas and into 2021 through its Give A Little Love advertising campaign.
All donations to the appeal will be matched by the retailer up to the value of £2m. This comes alongside a further fund of more than £1m to ensure all JLP branches can actively partner with FareShare, Home-Start and local charities for disadvantaged families.
Its 2020 Christmas campaign is made up of two adverts designed to highlight the importance of helping those in need by conducting acts of kindness.
"We promised that this year's Christmas campaign would be like no other, reflecting the unprecedented year we've all endured. This is our first departure into the world of live entertainment, but we're kicking it off on an ambitious scale with a massive audience who will collectively celebrate the acts of kindness which have characterised 2020," said Peter Cross, customer experience director at the John Lewis Partnership. "This event allows us to give a little love to our Waitrose and John Lewis loyalty cardholders by giving them a fantastic evening of family entertainment, as well as raising funds for the work of two charities, who are doing vital work to support families in need, particularly those who have been disproportionately impacted by Covid-19."