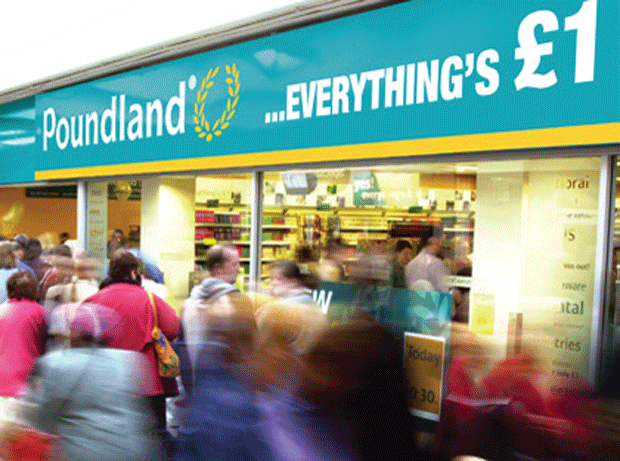 Poundland today confirmed its intention to proceed with an initial public offering which it said will mark the "next phase" of the business.
The float will take place in March and is expected to value the company at up to £750m. Poundland is currently 76% owned by private equity group Warburg Pincus, with senior management owning the rest.
Ahead of the float, the single-price retailer has also bolstered its board with the appointment of four new non-executive directors.
Former Sainsbury's group development officer and Carpetright chief executive Darren Shapland will join as senior independent director. Trevor Bond, chief customer officer at Mondelez International, will chair the audit committee. Tea Colaianni, group HR director for Merlin Entertainments, will chair the remuneration committee. And former Travelodge chief executive Grant Hearn will chair the governance and nominations committee.
"The combined experience and retail insight of Darren, Trevor, Tea and Grant – and our ability to attract them to our board – is testament to the strength of the business," said Andy Higginson, chairman of Poundland. "I believe we now have an excellent board to take the business into its next phase as a public offering."
"The single-price sector is now a mainstream feature of UK retail and Poundland has been the central architect of that change"

Jim McCarthy
Poundland, which reported EBITDA of £45.2m for the 39 weeks ending 29 December, is outperforming its closest rivals, with Poundworld and 99p Stores both recently announcing falls in profitability. It has been the "architect" of the discount sector's growth over recent years, according to CEO Jim McCarthy.
"The single-price sector is now a mainstream feature of UK retail and Poundland has been the central architect of that change," said McCarthy today.
Poundland is set to open 10 stores on a trial basis in Spain under its European brand Dealz over the next two years, and also plans to grow its UK estate from 450 stores to 1,000.
McCarthy said Poundland's international and domestic ambition made the business a strong prospect for investors.
"We have the capability to generate positive financial returns in new geographies quickly as we proved with Dealz in Ireland and this underlines the potential for further international growth in addition to our rapid expansion plans in the UK," he said.
Retail analyst Nick Bubb said: "Given the weak profits at the fast-growing 99p Stores and Poundworld, Poundland is obviously the best of the 'pound shops'. But Poundland is not as big as chains like Home Bargains and B&M, whose incursion into markets such as homewares and toiletries has even put pressure on the sales of the likes of B&Q and Superdrug.
"Poundland thinks there is tons more room to grow in the UK and Europe… which is a good job too, as it doesn't seem to generate much LFL sales growth."
One discount industry insider said that Poundland's recently announced expansion into Spain could be seen as "risky" in the City.
"Tesco and Fresh & Easy, and its impact on shares, is proof that a big company looking to expand overseas isn't always the best idea," he said. "Poundland must ensure they get any international growth completely right as it isn't always a guaranteed success."