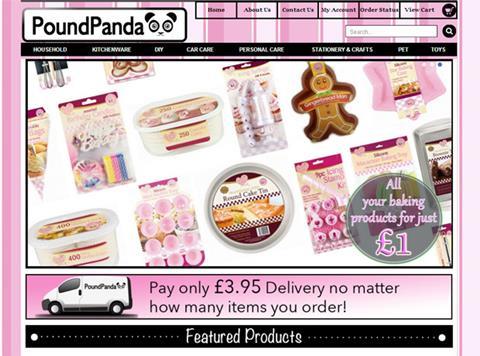 The third online pound shop to launch in the space of a week plans to take on rivals with a range of 2,000 products.
PoundPanda.co.uk launched on Friday (7 February) and promises nationwide delivery priced at a flat fee of £3.95. Categories available include household, kitchenware, personal care and toys, although the company plans to branch out into sweets & snacks and branded toiletries in the next two months.
The website is owned by Manchester-based importer Shonn Brothers, and is operated out of the company's 100,000 sq ft warehouse. Managing director Nicky Shonn said the website was "the natural next step" for the business and would provide it with a one-stop shop to sell lines it already imported into the UK. Shonn Brothers also runs a third-party seller on Amazon.
"The concept of an online pound shop is untried and untested, but I think the market is certainly ready for it," Shonn said.
Buying behaviour online was likely to be different from shopping in a physical pound store, Shonn said: "I think it will be a lot more occasion-focussed. It's going to be category-specific." The site's home-baking channel had seen a lot of interest since launch, he added.
"It's not a start-up, it's part of an existing business. We've got a lot of suppliers globally. It is going to be volume-based."
PoundPanda hopes its initial offer of 2,000 lines will set it apart from rivals Poundshop.com, launching today, and Hereforapound.com, which launched last week. Both offer around 1,000 lines.
"We've got a much larger initial offer. That should be a big selling point for us," Shonn said.
Shonn admitted that news of Poundshop.com's launch had influenced the timing of PoundPanda's launch.
"The timing is really unbelievable. Now we've got these initial launches and I wouldn't be surprised if other players get on board," he said.