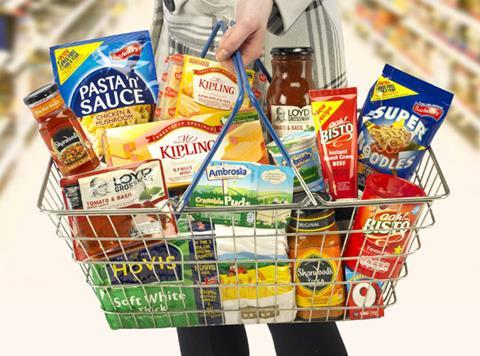 Premier Foods sales fell 6.2% year-on-year in the first three months of 2014, the company revealed today.
The performance was in line with expectations, said CEO Gavin Darby, and was due to the "subdued grocery retailer environment, a later Easter and the impact of milder weather".
Sales of Premier's grocery 'power brands' – such as Bisto and Mr Kipling – fell 3.5%, with the company saying Sharwood's had been hit by the "particularly competitive" cooking sauces and accompaniments category. Loyd Grossman sauces had grown during the first quarter, however, and had been supported by the launch of lasagne sauce pouches.
Premier said it had a strong programme of NPD planned for the second half of the year to drive category growth. It is also set to ramp up marketing activity during the year, and has recently started advertising its Batchelors Deli-Boxes.
Sales of its 'support brands' including the Cadbury cakes it produces under licence from Mondelez had fallen 10.4%. Premier said it planned to reverse the decline with new Cadbury product launches and support for Homepride cooking sauces.
"Our expectations for the full year are unchanged," said Darby. "While trading conditions are expected to remain challenging for the remainder of the year, we have a strong programme of new product launches and consumer marketing planned for the second half of the year building on our enhanced customer partnerships with retailers and supported by continuing initiatives to reduce costs, complexity and improve efficiency."
Since the beginning of 2013, Premier has reduced its number of suppliers by more than 38% to 2,040, with the company stating it was "well on track" to meet its target of 1,660 suppliers by the end of 2014. It is also reducing the number of SKUs it produces, and expects to have taken 700 product codes out of its range by the end of 2014, representing a 41% reduction since the start of last year.
In March, Premier received shareholder approval to split off its Hovis baking and milling business as a separate joint venture with The Gores Group; and last month announced the completion of a capital restructuring that included a new pensions framework agreement, a £353m equity issue, £500m high-yield bond and a £272m revolving credit facility.
"Having announced the Hovis joint venture and a major and transformational new capital structure during the quarter, we can now focus all our energies on delivering our category growth strategy," said Darby.