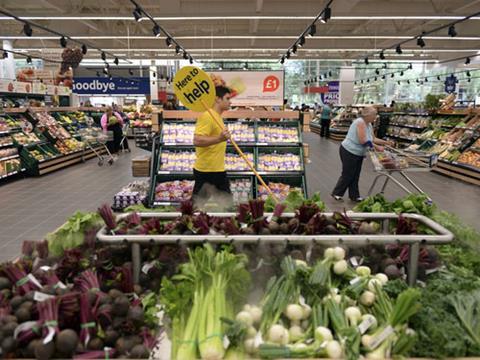 Tesco's full-year results, published today, revealed a 6% fall in group profit, along with challenging conditions in its international markets.
Read this: Tesco promises more price cuts as profits drop 6%
Bryan Roberts, retail insights director at Kantar Retail, said the decline in UK profitability and like-for-like sales came as no surprise, but there was still "much to be done", particularly in Ireland and Central & Eastern Europe.
"In the UK, the two missing ingredients are clarity and consistency. The proposition, particularly in pricing, is muddled and confused. Tesco doesn't necessarily need to have the lowest prices to recover – instead its pricing needs more clarity, predictability and transparency.
"In-store standards and execution are incredibly haphazard. Some Tesco stores, in and around London especially, are in the finest shape we've seen, while others around the UK are mediocre at best.
"While there is a lot of great work being completed by Tesco in areas such as online, convenience, digital and London, we are still awaiting some genuinely transformative efforts to regain momentum in Tesco's mainstream supermarkets across the UK as a whole. Putting shoppers, rather than shareholders, back at the heart of the business would be a good starting point."
John Ibbotson, director at Retail Vision, called on Tesco to find a "completely new direction".
"Philip Clarke needs to reconstruct Tesco in the new reality of lower profits and lower market share. If he can't do this, then how long can he survive?
"Tesco needs massive change and it needs it now"

John Ibbotson
"Nobody needs a superstore these days. The tiresome weekly trip to a big Tesco can be done on the internet in the comfort of your own home and be delivered to your door. Anything you've forgotten you simply nip down to your local convenience store to buy.
"Tesco's success on the internet and in convenience stores cannot make up for its struggling UK hypermarkets," he added, although he acknowledged Tesco's exit from Japan and the US were the right decisions internationally.
"It is not enough to sacrifice the finance director and think about changing the direction of the marketing. Tesco needs massive change and it needs it now."
'Juddering to a halt'
Phil Dorrell, director of retail consultancy Retail Remedy, said the "Tesco juggernaut is juddering to a halt".
"For the first time ever, you could say that Tesco has come unstuck. It's blaming tough trading conditions and increased competition but other grocers are managing to perform in the same environment.
"While Tesco dithers, the discounters are drawing in new customers with great prices, surprising ranges and super quality. Their proposition is simple and delivered almost effortlessly. They have an energy and a drive that Tesco has lost.
"If Clarke doesn't deliver soon, then the pressure will grow further, and may even come from Sir Ian MacLaurin, whose legacy is being eroded."
Management
David Gray, retail analyst at Planet Retail, said Tesco needed stability at management level: "Against a trading backcloth of like-for-like declines around the world, the business has also been beset with a string of management changes, including the planned departure of veteran finance director Laurie McIlwee.
"Stability among the senior management team is seriously lacking and with waters so choppy, a much firmer hand is needed on the tiller"

David Gray
"Stability among the senior management team is seriously lacking and with waters so choppy, a much firmer hand is needed on the tiller.
In the UK, he said, firmer measures will be needed to rectify the situation: "more product innovation, a faster rate of store refurbishments and extension of the investment in Clubcard Fuel Save. Short-term measures will not provide the necessary platform for a long-term turnaround."
"Tesco may have the turning circle of the Titanic, but hopefully the parallels end there," Gray added.
Meanwhile, Julie Palmer, a partner at Begbies Traynor, warned that the market forces rocking Tesco in the current price war among supermarkets were hitting independent retailers even harder.
"While the news agenda so far has focused on Tesco, Morrisons, Asda and Sainsbury's and their struggles to maintain market share, the real victims of the current supermarket price wars, namely the smaller independent food retailers and local grocery suppliers which fuel our communities, have largely been forgotten."
Read this: Tesco's store plan: More Giraffes and gyms in the pipeline