This article is part of our 2016 Confectionery digital feature
Strong standout is every confectioner's cherished dream (alongside, of course, the dream where sweets make a triumphant return to the nation's checkouts). But, in a noisy category, this is easier said than done. We've tasked creative agency 23red to turn three trends – botanicals, savoury flavours and coconut – into distinctive ideas for sweets and chocolate. The results? Suck it and see.
S/KEW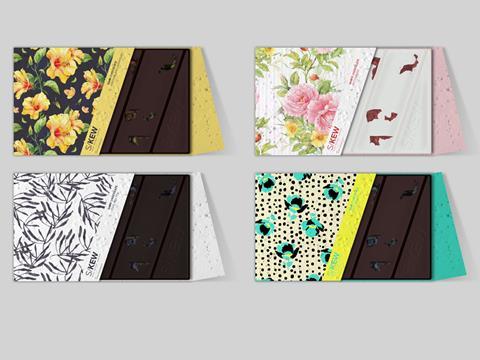 A wholly convincing premium concept, S/KEW would mine the seedy expertise of the Royal Botanic Gardens at Kew in 'a twist on botanicals'. The target audience is environmentally aware, appreciates what Kew offers, and would find S/KEW at the gardens, in high-end department stores, and at Waitrose and M&S.
The sharing-size Seed Project bars combine botanical inclusions such as fennel, geranium, Earl Grey and rosewater with a complementary chocolate base. So far, so familiar, but the paper wrappers also pay homage to Kew's Millennium Seed Bank project: they're impregnated with the relevant seeds for consumers to try growing at home.
"At the moment you can adopt the seeds, but this takes it a bit further," says Rob Garner, senior designer at 23red. "The technology is there to put seeds in paper, they've got the knowledge of chocolate and botanicals – it's just a matter of putting them together and you've got a product for a promotion or a permanent range."
Craft Mallows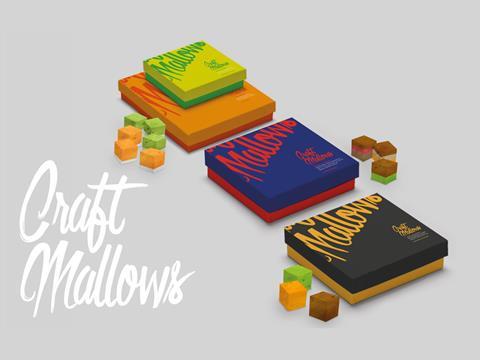 Made by passionately hip Willy Wonka types who are known, inevitably, as 'massive wonkers', these mix-em-up flavoured marshmallows are inspired by the crazy flavours of Jelly Belly and the universal need for a snack to go with a beer. Japanese KitKat flavours including wasabi and purple sweet potato also show what's possible.
"Marshmallows are really flexible; I found someone who made a cheese and Merlot marshmallow and there are flavours like coffee already on the market," says Garner. "Sweet vegetables seem to work better. You'd change the base to make it more savoury. As long as it's squidgy, that's enough of a marshmallow characteristic."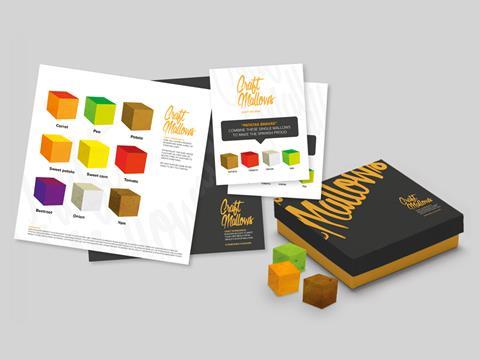 Flavours including beetroot, sweet potato and carrot can be combined to make a 'meal', while a Great British selection box features Tea and Biscuits and Chip Shop variants. Garner sees them on sale in beardy food and craft ale destinations and in Harvey Nichols and Waitrose, sitting alongside boxed chocolates during seasonal peaks.
Goconut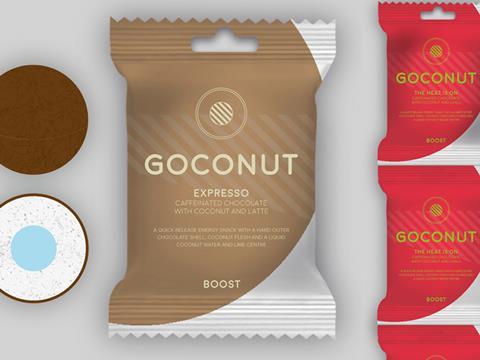 Where health and wellbeing meet coconut and chocolate, there is Goconut. And it looks like…a coconut! An improved coconut, naturally.
These spheres are aimed at on-the-go snackers looking for quick release energy, hydration with bells on, and the get-up-and-go or sit-down-and-chill vibes of chilli, lime, coffee, banana, vanilla or honey flavours. They offer 'boost', 'relax' or 'load up' benefits, ideal for pre or post-workout. A chocolate outer casing (caffeinated in the boost variants) covers a layer made from coconut flesh, which is low in carbs and high in fibre, and a flavoured coconut water centre.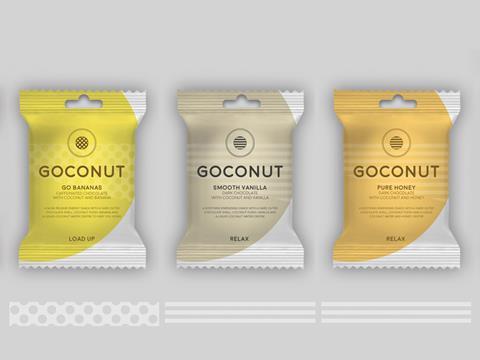 Golf ball-sized for a double-bite eating experience, they're individually bagged and would be sold on tear-off strips at high street health stores, sports shops and supermarkets. The question of mess could be addressed by canny consumer nibbling, or an internal twist-to-drink mechanism – a design evolution which is, understandably, still on the 23red drawing board.
In association with: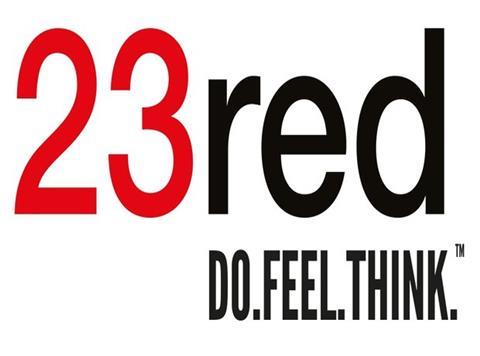 23red is the creative agency that gets people to do things. Because we know that getting people to do something (and do it now) is the most powerful way to make them feel and then think differently about your brand, a cause, or their own behaviour. We call it Do.Feel.Think.
This philosophy informs everything we do. It's the foundation of our planning approach, it's evident in the work we create, and it shines in the results we achieve. Try it for yourself: smile, and you'll feel happy. Instantly.
We're masters in developing new strategies that focus on an immediate action and long-term change; creating new brands that are action orientated; and crafting activation campaigns that start with a do.
Our expert understanding of behaviour change means that we always deliver work that engages your audience through the most relevant channels – close to the point of purchase, influence, or change in behaviour.
To say hello, and see what we can do for you simply visit: www.23red.com
Next article - Global NPD: Can sweets really give you clearer skin?

Previous article - Revealed: Quarter of women feel guilty after eating chocs