It's all a bit spooky. After years of scarily good sales, value sales of Halloween goods were up just 0.6% to £143.1m last year [IRI 4 w/e 31 October 2015]. Chillingly, even 'trick or treat' favourite confectionery fell 2.6%.

Given the effort and investment made by brands and retailers alike to successfully drive Halloween as a seasonal event to match Valentine's Day and Easter over the last few years, this lacklustre performance is surprising. So how do they plan to impress shoppers and convince them that Halloween 2016 will be creepier and crawlier than ever before?

When it comes to those skeletal figures, industry insiders point to price deflation as a major factor. The ongoing pressure to reduce sugar consumption has not helped either. "Even at Halloween, healthier treats will become more of a focus as sugar and fat content in children's diets continues to be scrutinised," says Liz Jacobs, senior brand manager at Soreen. "We sold twice as many Scream cake bars in 2015 than in 2014, showing the market for Halloween products beyond traditional confectionery is growing."

Undeterred, the major confectionery companies have a few tricks and treats of their own planned. Although the value of the Halloween confectionery sector has declined as a whole, a spokesman for Mondelez says its market "share grew 2.5% from 2014-2015".

Its treat-size products grew even faster. Cadbury Heroes showed "a growth rate of 23%" last Halloween as they provide "the ideal format for trick or treating". And he adds "43% of treat-size sales take place in the eight weeks running up to Halloween" [Total Halloween, Nielsen, 4 w/e 30 October 2015].

Mars, which says it had four out of the top five treat-size SKUs last Halloween [Nielsen, 8 w/e 1 November 2015], agrees. It says sharing bags have grown "by 9.8% over the last five years" with "Halloween-specific sharing formats growing by 4%".
What the discounters plan for Halloween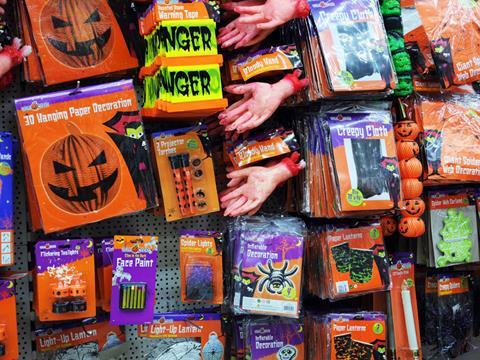 It's likely Asda will continue to lead the retailers in terms of Halloween promotions and dedicated in-store space.

But the impact of the discounters on price deflation cannot be underestimated, highlighted by the decline in value sales of Halloween staples last year. So what do the discounters have planned this year? And by how much will they carve up sales at the major mults?

The two leading discounters have differing approaches. "We have a vast Halloween range planned," says Tony Baines, joint MD of corporate buying at Aldi. "We have expanded our SpecialBuy range for Halloween by 25% this year due to customer demand, which will be supported by advertising, leaflets and PoS in stores and online activity in the run up to Halloween."

By contrast, Lidl says Halloween "isn't really a big topic for us".

Fixed and multi-price variety retailers are also competing to produce a spellbinding range. "We're dedicating more in-store space to Halloween 2016," says Chris Bennett, PR and social manager for Poundworld. "Our buying team has worked tirelessly to develop an offer that will excite our customers but not break the bank."

Richard Brewin, senior buyer at Poundland, is equally focused. "We have continued to see growth for the past three years and have similar predictions for 2016. The range offers broad appeal to young children, families, planned and impulse shoppers alike."

The big story of last Halloween was the safety of costumes following the high-profile incident involving Claudia Winkleman's daughter in 2014. Surprisingly, sales of Halloween dress-up items still rose 13.2% in value terms year on year (though that's half the growth seen in 2014). Parents, perhaps, felt reassured by a number of retailers stating their fancy dress for children would meet the higher fire safety standards required for kids' nightwear..
Haribo also continues to be a major player in the scary stakes, with a treat-size packet of Haribo de rigueur in any routine Halloween haul. "It's the biggest seasonal occasion for Haribo," says Claire Caley, seasonal brand manager. NPD, unsurprisingly, plays a big part in that. Caley says Haribo has "unveiled two new limited-edition line extensions, Scaremix and TangfasTricks".

The importance of NPD is echoed by Karmel Maletta, innovation controller at Premier Foods, who says shoppers are "always on the lookout for new and unusual products" at Halloween. But successful NPD isn't just down to suppliers, especially at a time when the market is struggling. New launches have to be supported by "in-store theatre with strong displays using manufacturer PoS" says Mondelez.

Caley at Haribo agrees. A brilliantly themed Halloween aisle or area - in the way Asda has done to great effect ever since its American parent, Walmart, started encouraging the UK to join in the freaky fun in the 2000s - can create a "key destination within a store," she says. "We have brewed up themed treats especially for Halloween that will enhance in-store theatre."

In a similar vein, Mars is planning a "sustained digital media campaign" and a full range of PoS for Halloween this year.
HALLOWEEN BESTSELLERS
IRI: 52w/e 4 October 2015
VALUE
VOLUME
£m
y-o-y%
units (m)
y-o-y%
Halloween Dress Up
£21.2
13.2
11.2
3.9
Home Baking
£11.7
-3.3
9.5
-4.0
Squash/Pumpkin
£11.4
17.7
8.1
25.5
Halloween Confectionery
£10.8
-2.6
9.4
-13.4
Popcorn
£7.7
10.5
7.0
10.4
Toys

For parents who aren't convinced they want their kids to consume vast amounts of sugary snacks, toy companies are stepping up their activity to provide a clean alternative to sugar. Playmobil has launched several Halloween themed toys. "Seasonal toys always perform well for us and these toys are brilliant for Halloween," says marketing manager Jamie Dickinson.

Tobar has "geared up" its range of toys to hit the "anticipation for increased demand in Halloween themed products". It's also focused on offering the range at "pocket money" prices to drive impulse buys for parents looking for a cheap alternative.

Poundland is also jumping on the wagon with a small selection of toys. "Mainly the range will consist of goody bag products that parents can buy in multipacks and split between party bags," says senior buyer Richard Brewin.
Poundland Halloween range

Launched: Halloween 2016 
Manufacturer: Poundland
To generate Halloween excitement, over 60% of Poundland's Halloween range this year is new or modified. "We are seeing a huge growth in make-up with strong imagery on packs to show how the customer can 'create the look'," explains senior buyer Richard Brewin. Much of the new range concentrates on the adult Halloween market and aims to "deliver amazing value" and "entice customers back each year. Careful consideration is given to the packaging, in-store theatre and point of sale."

Giant Troll and Great Dragon

Launched: July 2016

Manufacturer: Playmobil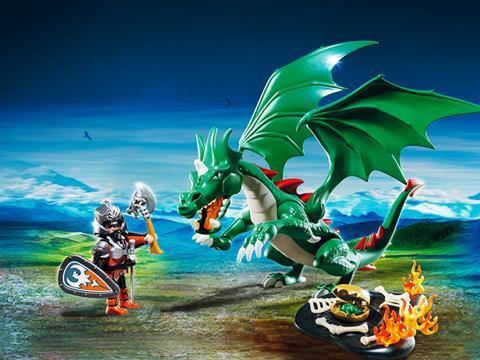 Playmobil has the gruesome Giant Troll (rsp: £14.99) and the fearsome Great Dragon (rsp: £24.99) available online at Asda and Tesco this Halloween. Both complement existing Playmobil sets. "Online sales have opened up huge opportunities for accessory sets," says marketing manager Jamie Dickinson.

Tobar Halloween toys

Launched: August 2016

Manufacturer: Tobar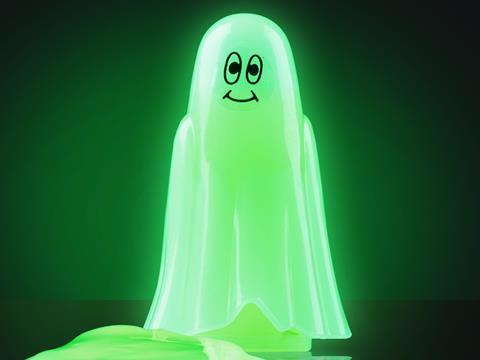 This Halloween, Tobar is launching a range of pocket money-priced toys. The new range includes Bendy Spider (rsp: £3.00), Ghostly Glowing Goo and Putty (rsp: £4.00) and Sticky Splatter Zombie (£2.00). These new toys will sit alongside Tobar's current Halloween products, which include stretchy skeletons, bats and a variety of slimes.

Blade & Rose Pumpkin Leggings

Launched: 25 July 2016

Manufacturer: Blade & Rose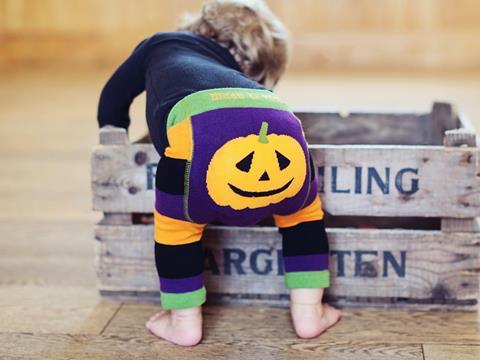 Parents can get into the spooky spirit this Halloween by dressing their mini trick-or-treaters in Blade & Rose Pumpkin Leggings. Blade & Rose is a British clothing brand specialising in trend-setting children's leggings and other accessories. The comfortable, cosy and durable leggings are made from top-quality cotton. Rsp: £10.
Pumpkins

Avoiding all controversy and selling fantastically well are pumpkins. The big winners last Halloween, pumpkins represent the fastest growing part of the market, with bulging sales up 17.9% year-on-year.

"Pumpkin picking and carving are cheap activities that the whole family can enjoy," says Emily French of Foxes Farm Produce, which owns two pumpkin patches in Essex. "Each year the demand for pumpkins increases and last year we sold out well before Halloween. All the retailers, from supermarkets to farm shops, are driving this growth."

Pumpkin sales have mainly been driven by the major multiples, but the equally fast growing discounters are also joining in the fun. Pumpkins remain a "popular choice for our customers" says Tony Baines, joint managing director of corporate buying at Aldi. "This year we will be offering large pumpkins, monster pumpkins and mixed squashes, available across all of our stores in the three weeks leading up to Halloween."

Pumpkin carving has also become a way for fiercely competitive creative types to show off their talents with ever more intricate carvings. But most people still tend to chuck the resulting flesh and seeds in the bin.

"All pumpkins can be eaten but we believe 99% of the pumpkins we sell are for Halloween carving purposes," says French. "Most people are unaware of the culinary uses for pumpkins. I believe pumpkins will become more popular and fashionable on restaurant menus and this will encourage people to try and cook pumpkins themselves."

It's already starting to happen. Pumpkin eating is a new trend grocery is tapping with products such as Baking Buddy's 100% Natural Tinned Pumpkin produced by Innovative Bites. Marketing manager Haris Deane says the "innovative tinned format" gives consumers a "hassle-free option when baking with pumpkin".

And baking itself has become vastly more popular at Halloween. Halloween is "one of the biggest home baking occasions, behind Christmas and Easter," says Jan McKee, executive head of marketing at Dr Oetker, who says "more shoppers are entering the category at Halloween than at Easter".

To make the most of this growing trend, Poundland will be promoting its bakery range, fronted by Jane Asher, with a series of videos showing shoppers how to create 'creature cakes'.
Pumpkin Patch Cakes

Launched: Halloween 2016 
Manufacturer: Premier Foods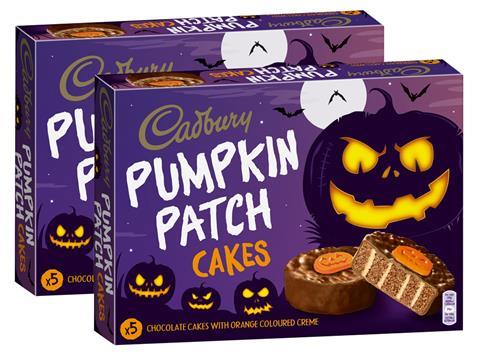 The Cadbury cakes portfolio is being expanded with Pumpkin Patch Cakes for this year's Halloween. The cakes contain orange cream and are decorated with a seasonal Halloween chocolate decoration. "Shoppers are willing to pay more for brands they know and trust such as Mr Kipling and Cadbury Cakes," says Karmel Maletta, innovation controller at Premier Foods. The new cakes will complement its existing range of Halloween cakes, mini rolls, slices and swirls. Rsp: £2.49 for a pack of five.

Cadbury Ghooost Egg

Launched: Halloween 2016

Manufacturer: Mondelez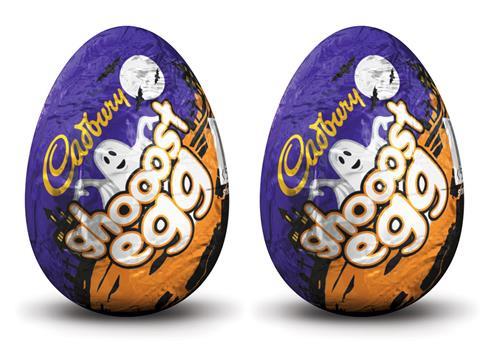 Another spooky addition for the Cadbury brand this year is the Cadbury Ghoost Egg based on the famous Creme Egg. Cadbury's existing Halloween confectionery range includes its treat-size lineup of bags featuring Heroes, Dairy Milk Buttons, Crunchie and Fudge and the relaunch of its successful Cadbury Crunch Spider. Rsp: 62p.

Trick or Treat Cake/False Teeth

Launched: August 2016

Manufacturer: Choc on Choc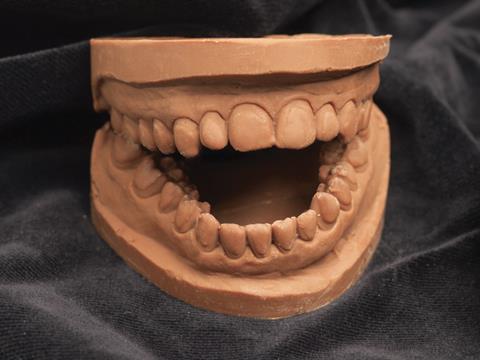 Supplementing its existing range of premium Halloween chocolate bars, Choc on Choc is launching a Trick or Treat Cake and chocolate False Teeth. The trick or treat cake consists of 10 solid chocolate slices that can be handed out to kids trick or treating. The company also produces a Day of the Dead chocolate bar (rsp: £4).

Butterkist Choc Mallow popcorn

Launched: September 2016

Manufacturer: Butterkist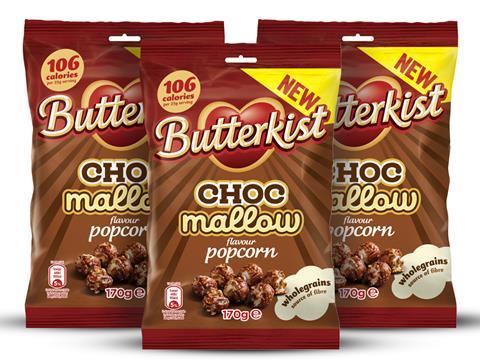 Building on the success of Butterkist Grim Green popcorn last year, this year Butterkist is launching Butterkist Chocmallow popcorn. Chocmallow is Butterkist popcorn with a toffee coating and a chocolate and vanilla flavour. It has been designed to appeal to adult and children trick-or-treaters. Rsp: £1.49 for 170g.
Halloween for adults

Baking is just one way more adults are getting involved in the Halloween phenomenon. The Halloween bug is increasingly biting adults and the industry is looking to capitalise on this trend. "A significant amount of our focus has been on the adult Halloween market this year," says Poundworld's Bennett. "This is where retailers are seeing the biggest growth. More adults have embraced the occasion by holding fancy dress parties at home."

Poundworld is also stocking an "even greater range of Halloween themed household decorations". Poundland, too, is targeting adults. "The adult ranges have proved very successful and as a result the range will be repeated for 2016," states Brewin.

The under-pressure confectionery companies are also increasingly paying attention to adults. "Our insights show that one in two adults purchase Halloween-related products," says Mondelez. "The majority are 25 to 34-year-olds, with a 29% share of the market, whilst 25% of those celebrating Halloween are 35 to 44 years old."

There has also been growth "in chocolate assortments, and in particular adult pouches", he adds. So Mondelez will be adding 500g pouches of Cadbury Heroes and Cadbury Roses, which are "ideal for adult sharing" at Halloween.

Of course, Halloween will always be for kids first and foremost. But the solution to last year's scary sales performance may well lie in giving Halloween a more grown-up look and feel in some areas.