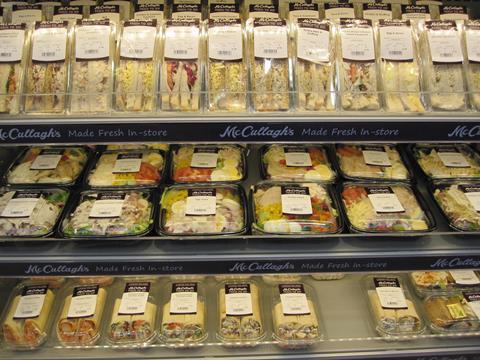 The UK food-to-go sector continues to go from strength to strength. The latest IGD figures predict it'll grow by £5bn over the next five years to reach £23.4bn by 2024.
There are huge opportunities to tap this booming market, especially within convenience and forecourt. With the advantage of well-located stores for those on the move, this channel is expected to have a 16% market share of food to go by 2024.
However, it's not just the food that's moving quickly. Consumer expectations are too. With competition fierce as new outlets and street food markets appear nationwide, the perception of food to go within retail, especially convenience, is still a bit grim.
We've commissioned lots of research into consumer shopping habits. It shows, time and time again, that lots of shoppers still believe a shop sandwich means a sad-looking, generic sarnie – one that does little to keep hunger at bay or match growing demands for gastronomic pleasures from around the globe.
This perception is dissuading consumers from spending their food-to-go budget in convenience stores and forecourts. But it doesn't have to stay this way.
You just need to look at Greggs – a great example of an evolving brand. It's no longer only about sausage rolls and pies, it's now known for its innovation and healthier options too. The success of its vegan sausage roll not only captured the nation's attention, but has been a genuine sales driver credited with boosting the company's profits.
Shoppers tell us they are willing to pay more for a product that delivers on taste and quality, from a brand they know and trust. Therefore, it's vital that brands take a leading role in changing these perceptions and supporting retailers to make the most of their on-the-go range.
How? First, through knowledge. With plenty of data at their fingertips to analyse what works and what doesn't, brands know what sells and what the emerging trends are. They need to work collaboratively with retailers (after all, they know their own shoppers best) to develop the right range for them – one that can flex according to shopper missions and consumer demographics.
Second, product development. Understandably, taste is still the number one driver of sales and repeat purchases, and there's still a place for great tasting classics like the BLT or chicken salad sandwich. But retailers also need to cater for different dietary requirements – whether vegan, vegetarian, halal, gluten-free or just generally good for your health. Those perceived 'healthier' options, such as wraps and salads, are growing ahead of sandwiches and rolls.
Plus, they need to appeal to those looking for exciting new options. In order to keep customers on board, food-to-go suppliers will have to continue to innovate, drawing in new customers with exciting new trend-led flavours and products. One place to look to for inspiration is street food. Not only is hot food increasingly in demand (it now accounts for 13% of total food-to-go category spend), street food vendors are at the coalface – they know what cuisine is popular and what really sells. This kind of insight is invaluable.
Finally, it will be no surprise that sustainability is also on the mind of consumers when they're looking for lunch, dinner or a snack. This is another aspect that major food-to-go brands can support retailers with, providing packaging developments and green initiatives.
There has been lots of progress in food to go in retail over the past few years, yet so many remain unaware of the fantastic range increasingly available in store. Retailers and brands need to work together to not only develop the right product range, but to let shoppers know it's not just a limp cheese sandwich they'll find in store. Otherwise, they might just find this huge opportunity passes them by.