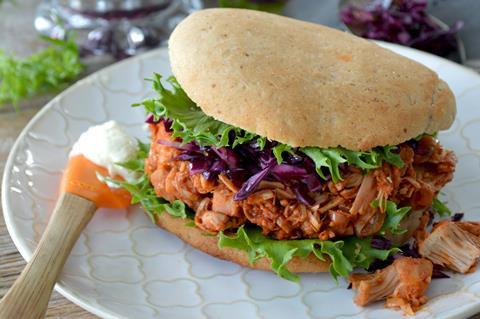 Veganuary is getting bigger every year. Last year, over 400,000 people signed up, more than double the number from two years previously (168,500) and up from just 3,300 in its first year, 2014.
According to the campaign's organisers, even though some participants didn't manage to stay 100% vegan for the whole month last year, more than three-quarters (77%) of those who didn't said they were very or extremely likely to try veganism again in the future.
This is compelling evidence that, far from being a trendy fad, more people are eating less meat and following flexitarian diets. The lockdown in the spring also provided people with a strong impetus to rethink their dietary choices. According to a survey by Mintel, 25% of British millennials said the pandemic had made a vegan diet more appealing. It also found a vegan diet was proving more attractive to more than one in 10 (12%) of all Brits overall.
Even before Covid, an increasing number of people were starting to follow meat-free diets, with more middle-class shoppers cutting down on animal-based products. Interestingly, the data demonstrates that the rise is primarily being driven by non-vegetarians: while only 3% of the population describe themselves as vegan, 21% now identify as flexitarian, enjoying a mostly vegetarian diet but occasionally eating meat or fish. A report by Sainsbury's goes as far as to predict vegans and vegetarians will make up a quarter of the British population in the next five years.
This rise in popularity of meat alternatives, or as we call them meat successors, has already led to supermarkets and online grocers stocking increased lines. According to the 2020 Eating Better survey, the number of plant-based ready meals on the market has risen from 3% to 16% in the past two years.
But retailers need to get better at promoting their plant-based lines. Too often, vegan products such as plant-based burgers or chicken are still confined to specialist vegan aisles, away from the meat displays. The likes of Sainsbury's and Tesco have begun placing plant-based products within their meat sections, and other retailers should follow suit to maximise sales opportunities. If they don't, potential customers of meat alternatives may not look for the specialist separate vegan aisle or simply forget it exists.
In the same way as supermarket giants opening smaller satellite stores – such as Tesco Metro or Sainsbury's Local – and Pret a Manger introducing veggie-only sandwich shops, I see a future where the large grocers could open specialist plant-food-only stores too, where the demand exists.
Pricing is also an issue. Two-for-one, or similar, offers tend to be rarer on plant-based products than meat-based ones. The price of sustainable, healthy foods should be cut to make them more affordable. Why should customers pay extra for doing the best they can for the planet? Retailers have the power to create a world where plant-based alternatives are accessible, stocked in the meat aisle, and paid for at a checkout where free magazines feature plant-based recipes.
Retailers can also steal a march on their competitors through innovation. Demand for 'clean' vegan products is growing, as is demand for vegan products with fewer ingredients than the average product. The new generation of vegan products are likely to be made from ingredients such as chickpeas or sunflower seeds. As demand for these products grows, grocers have the opportunity to get ahead of their rivals by extending partnerships with suppliers to bring such NPD to market.
So yes, Veganuary will be bigger than ever this year, and that should be celebrated. But it's time for us to go further: the growing popularity of meat-free diets in general should prompt more retailers to consider how they can go the extra mile on their plant-based products in order to not only do what is right for our planet, but to fully take advantage of this fast-growing market.