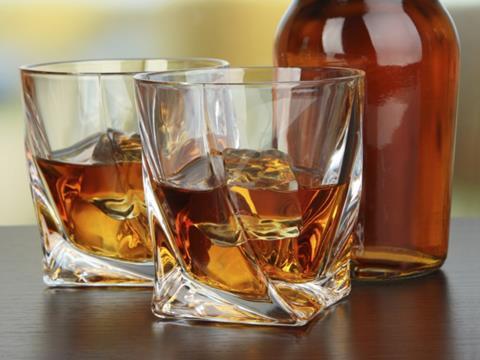 What does the future hold for premium spirits in the UK? The Distilled Spirits Council of the United States (DISCUS, of course) has just published its annual report, and its findings provide a fascinating glimpse at what could be in store for the UK crafts spirits market.
It's worth paying close attention to US spirits trends – the UK is already the number one importer of US spirits, and in 2015 sales soared 26.7% year on year to add a massive $47.6m to the total UK booze tab. In its new report, DISCUS has named the UK its number one 'market to watch' in 2016.
So with more and more US spirits makers training their eyes on the UK, what are the key US trends worth watching out for?
Demand for American whiskeys, specifically bourbon, Tennessee and rye, is "booming", says DISCUS. "Super-premium" American-style whiskeys like Knob Creek and Woodford Reserve have managed to grow volumes by 25.2% over the past year against wider market growth of 5.2%. Despite their hefty £30-plus price tag, both brands are currently in Amazon's top 50 whiskeys. UK distribution is currently limited, with Tesco the only of the big four to list Knob Creek, but expect this to change soon: other mults are sure to take note of the growth figures these brands are posting stateside.
Interestingly for a product often associated with older age groups, DISCUS puts the recent American whiskey success story down to millennials, saying those coming of age are seeking out premium products and this is in turn driving high-end innovation. A "fascination with provenance" means there's growing demand for an authentic product, with heritage – and this is where the premium whiskeys are really cashing in.
Interest from millennials has also underpinned the huge boom in micro-distilleries in the US, the number of which has grown from 92 in 2010 to more than 750 in 2015. After the "first wave" of the craft booze movement – the craft beer revolution, which has given the UK more than 1,300 craft breweries [CAMRA] – a similar trend is now underway over here too: Dominic Roskrow of the Craft Distillers' Alliance says the UK is starting to see the beginning of a "big upward trend" in UK craft distillers.
If the US is anything to go by, these new UK distillers will find a ready market for their expensive, small-batch products – and a growing league of coming-of-age consumers willing to pay top dollar for the right heritage and 'story'.