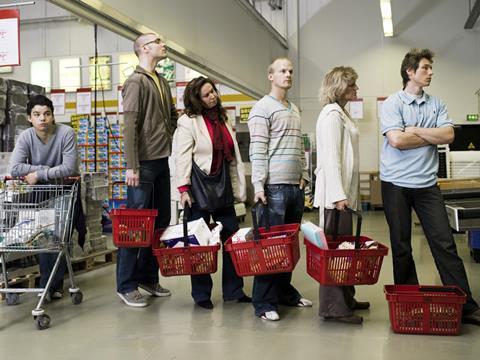 Dissatisfied
31%: number of millennials satisfied with supermarket products vs 58% for over 55s
29%: supermarket experience satisfaction score vs 49% for over 55s
71%: number of millennials who have used loyalty cards vs 94% for over 55s
Millennials have delivered a withering verdict on supermarket shopping.
A new report from marketing consultants Bridgethorne questioned 1,500 shoppers over the last six months and asked how satisfied they were with their supermarket experience, including online shopping. It also asked how satisfied they were with their purchases, and how loyal they were.
It found that millennials - defined as 18 to 34-year-olds - were barely satisfied with their supermarket experience or the products purchased. They were also the least likely adult demographic to try a loyalty card.
Bridgethorne argues this damning response suggests supermarkets are too focused on winning over family shoppers at the expense of the younger generation.
"Family size may not be considered the perfect fit for younger and older generations," says Bridgethorne joint MD John Nevens. If supermarkets want to remain relevant to millennials, they "must find a more effective way of influencing them". That means "better understanding their behaviour and fundamentally adapting their offering".
Simple in theory, less so in practice, says Conlumino MD Neil Saunders. Millennials are "far more fickle and promiscuous when it comes to shopping".
Flexible
And if supermarkets have traditionally focused the majority of their efforts on marketing to family shoppers filling big trolleys, they have become more flexible over time, he insists.
"Families still represent the bulk of where the money is, so supermarkets have focused on them, but in central urban areas where there are fewer families, the grocers will attune their proportions to younger, urban professionals."
Premium prices
Far from ignoring them, plenty of supermarkets are "overhauling their strategy to cater to millennials because actually they spend more on artisanal and premium food and alcohol," says Lucie Greene, worldwide director, JWT Innovation Group. "It's Generation X (aged 35 to 50) who are poor."
As for the supermarkets themselves, one of the big four supermarkets rejects Bridgethorne's findings, saying it "caters for all ages, from kids' clothing, back to school, back to university and music and video game launches". It adds that its internal data shows "there is no demographic group that is more satisfied than the other".
Ultimately, says Saunders, millennials are "generally more demanding and have higher expectations" than older shoppers. "So it's not surprising they are less satisfied with supermarkets - they are generally less satisfied with most retail brands. So this is less a reflection on those brands and more a reflection on the psychology of the millennial generation."