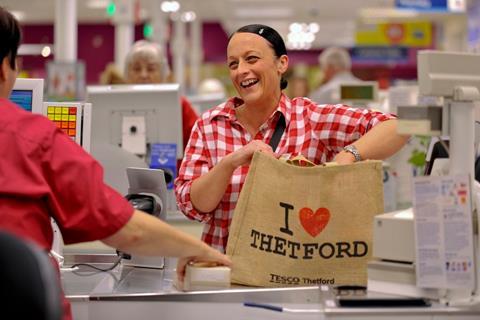 When Tim Steiner spoke last week about ensuring Ocado's tie-up with M&S was responsive to the needs of their combined shoppers, he joined a long list of businesses loudly choosing to be 'customer-led' or exploring a 'customer-centric strategy'.
No doubt about it, Ocado's customer base will change when it swaps Waitrose for M&S, and Steiner is right that the business must adapt. However, his comments raise an important point – when retailers look to put customers at their centre, who exactly are the customers they are referring to, and are these organisations operating with too narrow a mindset?
It's a question worth exploring, because too many retailers – and brands – think only about their existing shoppers. However, they must look wider, because in reality there is no such thing as an 'Ocado shopper', an 'M&S shopper', or a 'Tesco shopper'. The most likely behaviour of any individual is to not shop with a specific retailer or brand, so there's simply no way they can try and 'own' consumers as if their lives revolve around a particular business.
If that still seems hard to swallow, consider this. People usually go to buy food and drink four or five times a week. But that's only a small part of a shopper's repertoire. Factor in every other kind of shopping trip they're making and that number goes up to nine. Add in online purchases and we hit double digits, averaging 10.5 trips a week. As a grocer, you might be lucky to account for £6 in £10 of a person's retail spend, and more than half of people visiting a supermarket will make another shopping trip the same day.
Competition is already fierce among the supermarkets. But the truth is that the competitive set goes far beyond the grocery sector, and that's something that is often forgotten or indeed ignored.
This is understandable. It's very easy for retailers to focus on their own shoppers – after all, that's one thing they certainly can see and understand. But no matter how they segment their customers, unless they look at the bigger picture they're going to miss out.
Why? Because on average the main grocers lose 16% of their shopper base from one 12-week period to the next. That means that they typically need to acquire 1.8 million new shoppers each quarter just to stand still, let alone grow. So if customer-centricity means just trying to improve loyalty among an existing cohort, the result isn't going to bear significant fruit. Loyalty is an output, not an input – thinking that it can be used to drive sales is to turn the truth on its head.
Focus on acquiring new shoppers, though, rather than squeezing more from existing customers, and success will be more likely. It's important to start with the individual, because a new shopper won't necessarily easily fit into an existing or neat marketing mould. Consider how people behave in the wider retail universe – what do they do on the same day as visiting your store, for example, and is there a way they can be encouraged to do those things within your four walls? Grocers are specialists in grocery, but their shoppers are interested in so much more than that and retailers need to show they recognise this.
Taking a truly individual approach, of course, can be costly and time-intensive. There are ways around this – retailers should draw on their branded and own-label partners, who are experts in their own categories, and consider how they can best understand shoppers to take into account not just what they buy but their wider interests and values beyond grocery.
Otherwise, the risk is that retailers follow a customer-centric approach that is laudable in aspiration but doesn't necessarily get results.