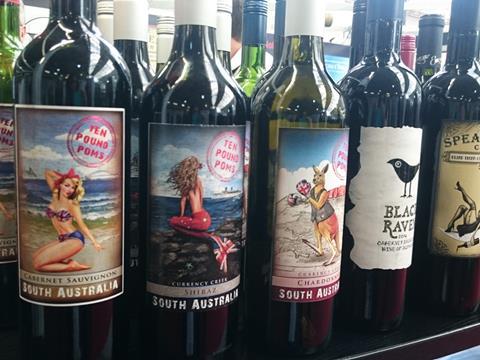 It's wine o' clock! The London Wine Fair is in town packed with hundreds of exhibitors and more than 13,000 wines all waiting to be sampled. It's a hard job, but somebody's got to do it.
I'll admit I'm no wine connoisseur. Strawberry cider is my drink of choice, and when it comes to wine if it's pink, sweet and cheap I'm in. But I broadened my horizons in the name of research and headed down to the show to find the latest trends, products and ideas that retailers should have on their radars. Here's what I found:
• Romanian wine is trying to make it big in the UK market. The Romanian Winegrowers' Association was in attendance at the show along with nearly 20 winemakers from the country seeking to raise awareness of their products – from the gimmicky Legendary Dracula wines hailing from Transylvania (the stand was complete with men in vampire capes) to the noble Cervus Magnus Monte wine collection from Crama Ceptura. Waitrose is starting to take note with five wines in the Waitrose Cellar hailing from the region, which is ideal for wine growing thanks to the special microclimate around Dealu Mare.
• It's cool to be hip. From men with hipster beards, top hats and monocles to 1950s-style pin-ups; wine bottle labels are becoming more adventurous. They certainly make an impact on shelf (and at the fair) standing out from the more traditional ones on display as they target younger consumers. Lanchester Wines unveiled two new ranges at the show – Ten Pound Poms and The Speakeasy Club – the labels of which feature beauties that have affectionately been named Vera and Velma.
• Sherry's not just for grannies. One producer told me sales of its sherry had risen 20% over the past year as the tapas trend continues its strong growth in the UK restaurant scene. After all, what's better with delicious Spanish food than a traditional fortified wine hailing from Andalusia? It's one thing to grow in on-trade but the difficulty will come in convincing consumers to splash out on a whole bottle for home consumption.
• English sparkling wine could give Prosecco a run for its money. Although a relatively new industry, this home-grown gem is causing quite a stir in the wine world right now, with seven bubbling beauties securing Gold awards at the International Wine & Spirits Competition, as revealed at the fair. Nyetimber picked up two of these for its Classic Cuvee Magnum 2009 and Blanc de Blancs 2009. The brand certainly caused a scene at the show with one of the busiest stands thanks, in part, to its eye-catching 1968 Routemaster bus.
• Sake it to me. The Japanese rice wine made an appearance at the fair for the first time, reflecting the growing importance of the category in the capital and beyond. The Sake Pavilion featured a selection of sake brewers and distributors from Daishichi Sake Brewery to Tazaki Foods, and Ueno Gourmet. It's still a niche market, but in the on-trade market there are opportunities to pair it with more than just Japanese foods thanks to its unique flavours. And, as with other spirits, the potential for mixing it in cocktails only extends its appeal.