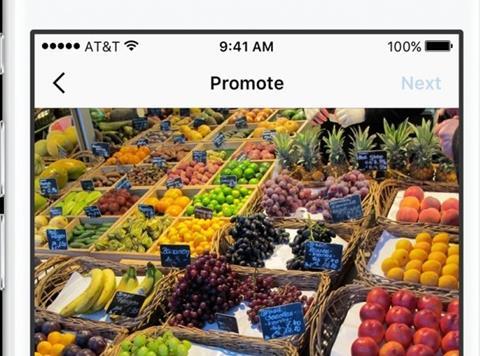 One in five Brits – equivalent to nine million adults – posted a picture of their food on social media or sent a food snap to a friend in the past month.
That is one of the key findings of the Waitrose Food and Drink Report 2016, published today, which claims food has become today's "hottest social currency".
"As a nation we're expressing ourselves through food as never before"

Waitrose MD Rob Collins
Consumers are using food to demonstrate who they are like never before, with some 44% of Brits saying they make an effort to make food look good if they think their creations might end up being posted on social media.
"As a nation we're expressing ourselves through food as never before," said Waitrose MD Rob Collins. "From healthy eating, to the explosion of food photography on social media, to our desire to entertain others through cooking – food is today's hottest social currency; through it, we tell others about ourselves."
Natalie Mitchell, Waitrose's head of brand development, added food was about experience and emotion. "And in a connected world, people want to share that," she said.
Intuitive healthy eating
Other key trends the report identified were a new intuitive style of healthy eating that sees healthier choices as "just a part of who we are". Seventy-one per cent of consumers quizzed for the report said this was an approach they had adopted, while 61% also said they were choosing naturally lighter and fresher food than they did five years ago, with many also choosing mini-treats instead of full-sized options, such as mini hot cross buns at Easter, sales of which rose165% at Waitrose.
"Doing the right thing" was another key trend, with 80% of shoppers saying they think about how and where food is sourced, and 30% saying they think more about society and the environment than they used to.
Food waste also featured prominently, with 46% of UK consumers claiming to throw away less food than five years ago. A third use their freezers more, while nearly half said shopping more often for smaller baskets helped manage food waste at home.
A further key trend the report identified was the blurring of the lines between eating out and eating in, with four in 10 seeing eating out as less of a treat than in the past, with healthier and cheaper casual dining out meaning they were increasingly choosing to stay in to treat ourselves.
As a result, eating in was becoming more of an event, with 40% of people having hosted or been to a 'Come Dine with Me' style dinner party in the past year. Demand for Waitrose Entertaining food ordering service was up 14% this year, while olive wood serving boards and 'posh cutlery sets' were up 60% and 40% thanks to people entertaining more at home.
From poke to veggie yoghurt
Key trends this year identified by the Waitrose report include wonky veg, seaweed, churros, cactus water and coconut flour.
Key trends for 2017
Hawaiian poke
Watermelon water
Vegetable yoghurt
Gourmet meal kits
Extreme indulgence
Veg purees to replace sauces
Perfume-inspired cocktails
The retailer expects new trends for 2017 to include Polynesian food, primarily Hawaiian poke (a snack consisting of raw fish salad marinated with lime, soy and sesame and served with rice); watermelon water – after megastar Beyonce bought a stake in Wtrmn Wtr earlier this year - and vegetable yoghurt, with flavours such as carrot, beetroot, sweet potato and tomato being infused into yoghurt.
Also likely to grow in popularity are gourmet food kits, which Waitrose thinks will "run and run" and has recently started trialling its own version; vegetable purees being used as replacements for heavy cream sauces; perfumed-inspired cocktails with fragrance accompaniments; and finally, occasional extreme indulgence such as the infamous 'freakshake'.