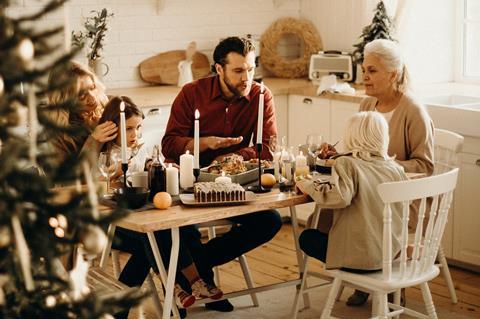 As a nation, we often joke that the festive season starts earlier each year as we catch our first glimpse of mince pies in September, but this year it's essential that preparations are underway as soon as possible. Retailers need to ensure they're ready for the unique challenges the industry will face this year as a result of Covid-19.
Stocking up early
The first half of this year has shown the importance of availability and stock build. This will be even more crucial as we approach Christmas.
Last year, we saw a huge spike in shoppers heading into stores on 23 December. This year, though there are currently fewer restrictions on store capacity now face masks are mandatory, it's unlikely retailers will be able to accommodate a huge influx of shoppers all at once in the days leading up to Christmas. With more people likely to be hosting Christmas at home this year, rather than travelling abroad, demand may also be higher than usual. Encouraging consumers to stock up on the ambient essentials as early as September should therefore be a key priority.
Regular, informative and clear communication advising customers why they should start stocking up early should also be implemented, as well as platforms to help them do so. Incentivising with special one-off free deliveries could be effective, tapping into the growing number of e-commerce sales in recent months – up 21% in fact.
Retailers can then work with suppliers to map out stock levels, production capacity and transport capabilities based on this new rhythm of shopping.
Providing the right range
As we know, people have been making fewer trips to stores for their grocery shopping, having found it more stressful during social distancing. While data suggests these visits are starting to pick up again, it doesn't look like 'normal' shopping behaviour will return until at least October-November.
Consumers may therefore be less inclined to 'leisurely browse' the shelves this Christmas for novelty items and new products – instead entering stores with clearly defined missions.
Household names will therefore be key this year, with shoppers looking for brands they know and trust. So while NPD is often synonymous with Christmas for supermarkets, this year retailers will need to ensure they're striking the right balance between driving excitement through innovation and promotions, and ensuring high availability across their core ranges.
Adding some Christmas sparkle
Another key factor impacting the festive season will be the continued limit on out-of-home consumption, with many Christmas events unable to take place. This means the in-home occasion will become even more important, having already seen a massive surge over the course of lockdown. This has largely been driven by shoppers wanting to wind down or chill out, with the desire to treat or reward ourselves also gaining significant momentum. With this in mind, one way supermarkets can enhance the in-home experience this Christmas is by offering a range of high-quality, premium products for those looking to indulge with 'affordable luxuries'.
Helping to replicate the out-of-home experience with quality food ingredients, great-tasting drinks and show-stopping desserts will help to bring some much-needed sparkle to the nation's Christmas celebrations this year.
So, while the festive season may not be quite how we envisaged it earlier in the year, there are plenty of learnings we can take forward from recent months. As well as delivering clear updates for shoppers, ensuring robust preparation, agility and close collaboration with suppliers will be key for retailers as we approach the time of year that's so aptly associated with togetherness and hope.