As lockdown continues to ease, Brits are slowly returning to a new kind of normal. But what has that meant for grocery shopping habits? We looked at the latest data to find out.
People are visiting supermarkets more often
More than two-thirds of UK households are now visiting grocery stores twice or more a week, according to a survey of 1,622 UK Shopmium users conducted between 6-10 August 2020. That compares to just 45% in week three of lockdown (9-14 April 2020) and 54% in week 10 (21-25 May 2020).
Almost half (44%) of UK households are now making three or more grocery shopping trips per week, versus 20% in week 10, the Shopmium survey suggests.
Brits have also begun shopping at a wider variety of stores again, the survey suggests. Over a third of shoppers surveyed by Shopmium (34%) said they were now visiting three or more supermarkets a week, versus 16% in week three and 19% in week 10.
Latest Nielsen data shows shoppers are still shopping less frequently than they did prior to the pandemic, with visits to stores in the four weeks ending 8 August 2020 down 15% on the same period last year.
However, that's up from the 22% decrease in store visits registered in May, so there "are signs of a willingness to return", says Mike Watkins, Nielsen's UK head of retailer and business Insight.
Grocery sales are slowing down
The growth in grocery sales is also slowing down, according to Nielsen's latest data.
Fmcg sales at supermarkets slowed to 7% in the four weeks to 8 August 2020 as Brits spent £678m more than this time last year.
That compares to the eyewatering £1.9m extra spent in the four weeks to 21 March 2020 as shoppers prepared for the upcoming lockdown. However, it's still significantly higher than the 1% year-on-year growth seen during the same period in 2019.
"The warm weather, coupled with Brits working from home, spending less on dining out and embarking on UK 'staycations' over the summer have all contributed to this steady growth in UK grocery sales," Nielsen says.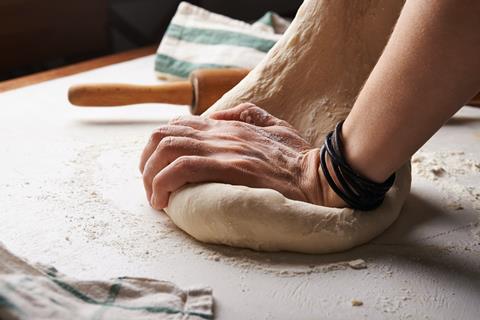 Sales of baking products such as flour (+47%), sugar and sweeteners (+25%), eggs (+17%) and butter and spreads (+14%) are still surging.
There has also been further growth in fresh meat, fish and poultry (+13%) and packaged grocery products (+14%), which has surpassed sales of frozen food (+12%) for the first time since April. Sales of beers, wines and spirits also increased by 20%.
"UK shoppers are now establishing a new, regular shopping routine and we can expect the current levels of growth to continue for the rest of the summer," Watkins predicts.
Online deliveries are still booming
Online sales accounted for 97% of the growth in grocery sales in the four weeks to 8 August 2020 – a total of £658m, according to Nielsen.
Despite an increase in store visits as lockdown eases, sales made in-store were only up by £20m year on year – representing 0.3% growth. In contrast, online growth continued to accelerate – up 117%.
"The shift to online grocery shopping, which looks set to stay, is the most dramatic change of shopping behaviour we've ever seen," says Nielsen's Watkins.
Indeed, according to Shopmium's survey, the number of households shopping for grocery online has remained stable despite the easing of lockdown measures.
Around a quarter (25%) of UK households are buying groceries online using either deliveries or click & collect, it found. That compares to 22% in week three of lockdown and 27% in week 10 of lockdown.
When it comes to online shopping, nearly 50% of transactions are happening on mobile, the survey found. In contrast, laptops accounted for just 27.5% of online grocery shopping transactions and iPads accounted for 17.8%.
Safety is still a concern
Although Brits appear more confident about visiting supermarkets more often, they remain concerned about other establishments, the Shopmium survey suggests.
Less than half (47%) of respondents said they had visited a pub, bar or restaurant in the past seven days, while over a third (32%) said they would feel uncomfortable doing so.
Indeed, safety also remains a priority when visiting supermarkets. While only 10% of respondents to Shopmium's survey said they felt uncomfortable when grocery shopping, almost two thirds (64%) said they would change their primary supemarket if they felt it wasn't taking relevant precautions.
In fact, more than one in 10 (11%) consumers have already switched supermarkets due to concerns over safety measures, Shopmium said.
People are watching what they spend
Safety isn't the only consideration for shoppers. Almost a third (31%) of respondents to Shopmium's survey said they had less disposable income than before the crisis, and almost a sixth (19%) said they were now spending less money on groceries.
The vast majority of respondents (98%) said they are looking for discounts and ways to save money on groceries – which tallies with a 23% increase in the use of digital coupons and cashback apps, according to Shopmium.
"It's positive to see a return to normality where visits to supermarkets are concerned, but it's still far from business as usual in the sector," said Shopmium's UK head Stuart Sankey.
"The brands that best reflect evolving consumer preferences and act to alleviate concerns over safety, will be the ones that come out of the Covid crisis unscathed."