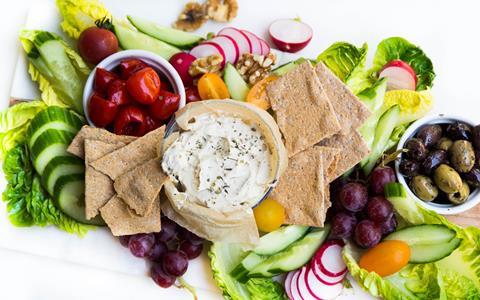 Healthier options are becoming increasingly important in grocery. Snacking is of particular interest: Mondelez recently reported over half of global adults considered snacking a 'lifeline' in lockdowns, while 88% were snacking more frequently. Clearly, a huge growth opportunity – but how can brands limit the risks and costs associated with snacking NPD, given widespread economic pressures on those same consumers?
Rather than tapping into traditional focus groups, our data scientists and insight analysts turned to social media to see if listening to natural conversation could provide answers. After all, social media is a primary channel for voicing opinion. The team discovered over 365,000 mentions of healthy snacking being discussed.
Fuelling this chat was positivity around easy and tasty options, and people discussing just how much they loved their chosen snacks. At the other end of the scale, there were negative comments on mistargeted snacks that were not as healthy as claimed. Snack discussion is widespread across Twitter, Instagram, Pinterest and Facebook. So with the potential for brands to capture true snack advocates who keep professing their love for chosen items, what trends are top of people's topic feeds?
When analysing the discussion, we pinpointed specific snacking themes. Party treats proved a regular topic – for school parties or gatherings linked to occasions like Valentine's or Halloween. Long associated with overindulgence, there is a lot of grassroots discussion on providing healthier options like fresh salsa or cake bites.
There are also numerous posts around special diets and preferences, such as gluten-free, vegetarian and vegan. Users are sharing information and recipes for healthier alternatives, often plant-based, naturally sweetened or organic. This topic spans healthier cooking methods, such as air frying, oven baking, freeze drying, or roasting.
We also saw greater awareness of the nutritional value of snacks. People are planning meals in advance to control their calorie and nutrient intake, tailoring needs to fitness or weight loss goals. They share meal-prep recipes to regulate what they eat to help stay on track with their personal diet goals. Healthier drink options are another topical theme, including debate around health claims of certain products marketed as better options.
All of this information on consumer demand, discussion and debate is being freely shared on social media – it just takes the right tools to capture it. When it comes to brand potential for NPD, opportunities abound for brands to tap into these themes, offering tasty alternatives, healthier ways to indulge on special occasions, a homemade feel or contributions to fitness or wellness goals. Most importantly, this discussion is vast, and continual.
This tendency to seek out healthier snacks is universal. Lots of different consumer profiles are driving the conversation: people with dietary restrictions, trainers, parents, weight loss and wellness seekers, and more. This presents a vast market opportunity for brands willing to open their ears to social debate.
NPD in the grocery space is often a careful balance of risk against reward. Even backed by expensive market research and testing, new product launches can underperform. And yet, this analysis shows a vast treasure trove of opinion and demand online that could take much of the sting out of NPD.
Social represents a vast organic trove of information, which retailers and manufacturers can tune into and use to get ahead of emerging consumer trends. The trick is understanding how to utilise natural language, and analysing the discussions that matter.