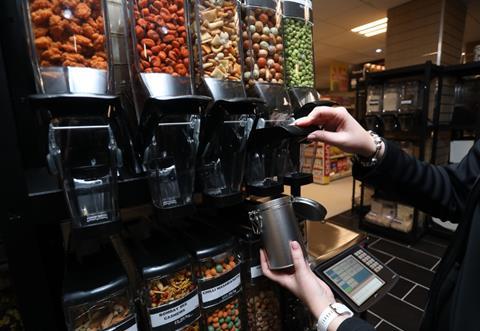 Convenience retailers have told The Grocer of how their work to reduce plastic has been derailed by the coronavirus pandemic.
Thornton's Budgens in Belsize Park launched a milk dispenser last year in the hope of encouraging customers to fill their own containers but has had to adapt the service as a precaution against the spread of coronavirus. Single-use plastic bottles are now provided at the milk station rather than encouraging customers to refill their own.
Pastries and bread rolls, which were previously offered packaging-free, have had to be individually wrapped in single-use plastic after bakery sales fell 35% in April.
"In principle, coronavirus has slowed us down in achieving our goals of increasing the plastic-free range and bringing new innovation in store," said facilities and operations manager Kate Avgarska. "We had plans to stop selling half-litre bottled water and really push our mineral water refill station over the summer months, but this is now on hold for the time being."
Overall footfall has been down in the high street store by 30% year on year since lockdown measures were imposed on 23 March. However, an increase in average basket spend meant sales were up by 1.5% on the previous year for April and May, according to the retailer.
Meanwhile, the Eros Retail convenience chain in Scotland has had to make a number of changes across its eight stores, including pre-packing its confectionery pick & mix into disposable sealed cardboard boxes, rather than allowing the customer to put their selection into their own reusable containers.
Fruit & veg that had previously been sold without packaging is now in single-use plastic bags
These changes have also applied to the retailer's most recently updated store, Greens of Ellon, which was designed and laid out with a focus on loose produce to push a plastic-free agenda.
Owner Harris Aslam told The Grocer loose product sales were down 70% for April and May compared with the same period the previous year across all categories, though overall sales had surged by 40%.
"Keeping people safe and getting product on the shelf are our priorities right now," said Aslam. "Local businesses have been able to support us with these new requirements."