The past few years has seen unprecedented upheaval in the UK convenience sector. So what does the landscape look like now for the big players? And are there more changes ahead?
Within the past three-and-a-half years Palmer & Harvey collapsed, Tesco completed its takeover of Booker, Co-op bagged Nisa and agreed a supply arrangement with Costcutter, Bestway snapped up Conviviality Retail after the wider Conviviality business hit the rocks, and the two biggest wholesale buying groups, Today's and Landmark, merged to create Unitas Wholesale.
But as the dust begins to settle, which developments have affected independent and symbol retailers the most? What have the consequences of consolidation been? Are the promised benefits being delivered? And how are rivals responding?
Far and away the biggest and most significant move of recent times has been the UK's biggest grocery retailer buying the biggest wholesaler, for £3.7bn. Tesco's acquisition of Booker was completed in March 2018 amid great fanfare – and a lot of promises about the benefits to be bestowed on thousands of independent retailers served by Booker, particularly those under its Budgens, Londis, Premier and Family Shopper fascias.
Fast-forward a year and many of these retailers were starting to grumble that the lower prices expected as a result of Booker flexing its £55bn Tesco buying power had yet to materialise – as had any great technology and service improvements. This was addressed last March by Booker CEO Charles Wilson, when he outlined a series of price investments that he claimed could save retailers up to £6,250 a year.
This later grew into the wholesaler's 'Bigger Group, Better for All' strategy, which Booker MD for retail Colm Johnson says is "progressing well".
It is not just about cheaper prices, he argues, but improvements to the quality of own brand products and a better range, offering retailers more choice.
"Booker has been able to source more than 30 lines from Tesco's range, which have been repackaged into our retail own labels, which includes Discover the Choice Italian desserts, frozen party food and wines such as Previata prosecco, Don Pavral rioja and Paterson's Grove sauvignon blanc," he says.
"It's helped our own label ranges grow, with Discover the Choice up 50% and Euro Shopper up 13%. We have also been sourcing brands which are only available in Tesco for Booker customers. These include 18-pack Carling and Foster's, 24-pack Coke and seasonal products such as Easter eggs."
On the pricing front, Booker also launched its new Tobacco Club last February, having struck a deal with Imperial Tobacco. The move promised to improve margins by 2% and enable Booker's retailers to better compete with the major grocers.
Premier retailer Samantha Coldbeck is seeing margin increasing to 5% for her tobacco sales. "Without a shadow of a doubt this has been a massive footfall driver," she says. "It was becoming quite an uncompetitive playing field as we couldn't sell them at rrp until this club was introduced."
The Hull-based retailer says overall average basket spend is up £1 from this time last year and insists the tobacco club is a key driver of this growth.
Other Booker retailers are happy to testify that improvements are coming through. "Produce can traditionally be hit and miss but the quality control now is far superior and has come with a price reduction," says Raj Chandegra, a Londis retailer for more than 30 years.
He has seen prices drop 30% across some lines, including salad products, but is hoping for further movement. "Pricing is always there and top of the agenda, but there is still room for improvements."
Rivals respond
The lure of Tesco is clearly an attractive proposition for independent retailers, with the Budgens and Londis estates growing by more than 50 stores in the past year. But of course, Booker's improved competitiveness has not gone unnoticed by rivals. So how are they responding and is it all about price?
"The Booker-Tesco threat is still there in terms of size and exclusivity on products as well as what they can do on price," explains Parfetts retail director Guy Swindell. "If we have stores in the same area as a Premier we will always make sure we are being competitive on price."
But Swindell insists there is more to it than price and its Go Local symbol is certainly enjoying strong growth in terms of store numbers, up from 400 last year to 500.
"We don't see the merger as a huge threat yet," he says. "In fact it has provided opportunity. Some customers don't want to be part of Tesco, and wish to remain truly independent."
He adds that 10% of the stores to sign up with Go Local in the past year were Premier fascias.
Go Local has also benefited from the fallout at other groups. It picked up 15 former Bargain Booze stores in 2018, and when Blakemore sold off its cash & carry arm in June of that year, Parfetts bought its Middlesbrough depot and subsequently converted 40 Lifestyles stores to Go Local.
"Price is obviously absolutely key but availability is the most important thing to our retailers," explains Swindell. "There is no point offering a good price if you haven't got the stock. Availability can be a real problem if products featured on a promotional leaflet are not in stock."
For Nisa and Costcutter, the most potent weapon in their armouries is the Co-op own label range – a clear step up in terms of quality from Nisa's previous own brand Heritage, and simply in a different league to the Independent brand Costcutter developed with P&H.
"Price is obviously key but availability is the most important thing to our retailers"
"The introduction of the Co-op range in-store was speedy," testifies Harris Aslam, owner of Eros Retail. "We see Co-op as market leaders – they have come on leaps and bounds as a business. The beauty of Co-op is that you can tap into their range or not. Booker customers are not seeing Tesco products come through [at the same level]."
Also coming into the Nisa supply chain in the past few weeks has been Co-op's new Gro vegan range. While the main supermarkets have been shouting from the rafters about their vegan NPD recently, the trend is still very much in its infancy in the convenience sector. Being able to access a credible plant-based range is a big point of difference for Nisa and Costcutter retailers.
According to Nisa, 1,900 partners have already stocked the range, which launched in early January. One of those, Dan Brown, MD at Pinkie Farm in Musselburgh, says: "We thought we'd give the Gro range a try and have had a fantastic response from customers. We have now made the majority of the range a permanent feature within the store, with the food to go and ready meals being particular favourites."
Now with a much better own brand offer and improved availability via the Nisa supply chain, Costcutter is also pointing to the other key strategic pillar – its Shopper First insight programme.
Its added-value retailer support is playing a vital part in moving Costcutter forward, explains CEO Darcy Willson-Rymer. "Recently we visited one retailer who had a great range in store but was really struggling with the back office stuff," he says. "Another could account for every single penny, but he wasn't stocking the right products. We were able to help both."
Shopper First is now in its third year and Costcutter is convinced it is paying dividends. And it is by no means the only symbol operator going down the insight route.
Late last year, after spending much of the previous 18 months fighting to get the business back on an even keel in the wake of the Conviviality fallout, Bestway Retail confirmed it was also embarking on a major trial based on demographics, geography and local competition, for its Bargain Booze symbol.
"We are now live with our fascia format project and will open new trial stores in our corporate estate in the first half of this year," says chief retail officer Andy Cresswell. "Developments around the fascia formats have included analysing every existing store site to see what the local demographics demand and establishing differences between our specialist drinks offer, our value-led drinks offer and our convenience offer, all of which we hope to roll out for franchisees in the future.
"The format developments take account of branding, range, promotional approach and training in terms of what knowledge store colleagues need to develop and specialise in."
Price
Price is never too far away from retailers' minds, particularly faced with rising costs such as the national living wage. This is certainly the case for retailers supplied by Bestway, which has always had a strong reputation for driving a hard bargain with its suppliers.
"As the industry continues to develop, so too does our offer to consumers," adds Cresswell. "Our scale is utilised to get the best deal for all our retailers and enables us to have a comprehensive Best-one own label range which offers retailers great margins, consistent quality and low prices for their consumers."
Best-one retailer Kay Patel confirms the wholesaler "has reacted to Booker".
"The offers are so strong. Prices are better on beer, wines and spirits than I've seen in years," he says.
"Most definitely price is the number one reason I am with Bestway. The most competitive categories are booze, confectionery and weekly tobacco offers."
Just like Costcutter and Bestway Retail, new Spar UK MD Louise Hoste, who took over in September, says its focus is on supporting retailers to better serve the consumer.
"Our key is to stay focused on what the customer wants and needs and we are going to ensure we can provide that in the most efficient way," she says. "We are working with our suppliers on the end-to-end supply chain to find opportunities where we can remove unnecessary cost for all parties."
Spar's store numbers have held steady this year at about 2,600. That is an adjective that could also apply to Unitas, which has been keen to maintain the status quo for retailers following the Today's-Landmark merger.
Consistency for consumers
The buying group agreed at the time it would keep its Today's, Day-Today and Lifestyle Express fascias. Each of the banners offers identical terms, bar a geographical differentiator for Day-Today, which is in Scotland.
"A strategic decision was taken by the Unitas Wholesale board that all three fascia brands would remain to maintain consistency for our consumers and those retailers already operating under their existing fascia," says John Kinney, retail director at Unitas.
"The three options provide retailers with choice in terms of the look of their store. They also help in terms of retailers operating in close proximity where an existing fascia may already be in place."
The industry has stabilised over the past year, but symbol and franchise operators know better than most that very little stays the same for long in the convenience sector, no matter how much some might want it to. The sector is starting to see a lot more technology coming in. Rapid delivery appears to be the next big battleground: where once retailers would strike individual deals with the likes of Deliveroo and Uber Eats, now it is symbol groups and wholesalers, including Bestway, Nisa and Costcutter, doing big deals with these operators.
But controlling the supply of goods remains the most important mission for wholesalers and symbols. Just last month, SimplyFresh, which has a supply deal with Costcutter for another two years for its 90-plus estate, kicked off a one-store supply trial with Sainsbury's. Could this herald a bigger deal further down the line? Quite possibly. Sainsbury's has a long-held ambition to join Tesco, Morrisons and the Co-op in growing the wholesale side of its business.
The dust may have settled for now, but it won't take much to shake it all up again.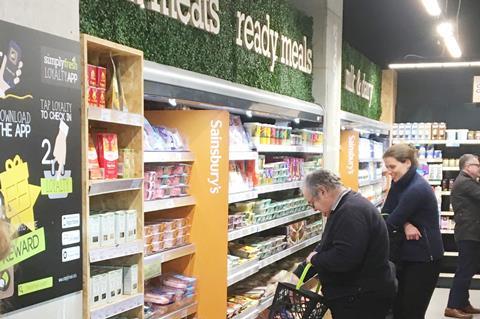 SimplyFresh trial offers a taste of the future
For years the convenience store sector was driven by independent operators coming together to create the scale necessary to compete with the major mults. However, the Tesco-Booker deal in 2017 meant that "the volume would now consolidate underneath the grocers", says Costcutter CEO Darcy Willson-Rymer.
Tesco, Morrisons and the Co-op have all secured major wholesale deals, but conspicuously, Sainsbury's has not, despite many attempts to do so and several trials.
It has come close, notably in the summer of 2017 when it was in pole position to snap up Nisa before getting cold feet and leaving Co-op with a clear run at it.
Sainsbury's has dipped its toes elsewhere with trials including Euro Garages and WH Smith, and some of these are still ongoing.
Last month The Grocer revealed it had kicked off another wholesale trial. This time supplying 2,000 own brand and branded lines to one SimplyFresh store.
The tie-up at Oak Lane in Willesden Junction could be seen as more of the same, small-scale trials that ultimately don't amount to much, but both Sainsbury's and SimplyFresh have hinted that the relationship could grow further.
"SimplyFresh is committed to meeting and exceeding customer expectations. This trial will provide valuable feedback on how we continue this in the future," says CEO Tim Chalk, who joined in 2018 to focus on strategy and future growth plans, and interestingly spent the first six years of his career at Sainsbury's.
It is still early days, says SimplyFresh creative director Davinder Jheeta, "but we are already seeing clear signs that our customers approve. As you can imagine, January can be challenging in retail but encouragingly we are seeing the store and its gross margin trading up like for like."
SimplyFresh is currently supplied by Costcutter for the rest of its 90-store estate and that deal has two more years to run. So growing the Sainsbury's partnership is not a done deal – at least in the short term. And for Sainsbury's even servicing the full Simply Fresh estate is a drop in the ocean vs rivals. But Costcutter has a 20% stake in SimplyFresh. So who knows where it might lead?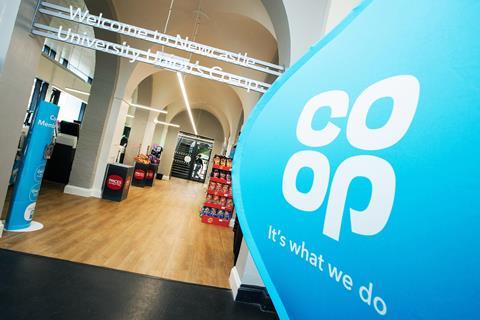 Co-op's franchise learning curve
One of the most exciting elements of Co-op's bid for Nisa was the potential for the development of a franchise model.
However rather than being a rapid rollout, it has been more of a slow and steady learning curve – not least because four of the eight stores to become Co-op franchises are on university campuses. Three are at company-owned Costcutter stores and the first Nisa retailer to become a Co-op franchisee did so in November, when Richard Williams converted his store to Co-op Somerton.
This is some way behind the ambitious target set out last April by Co-op Group CEO Steve Murrells, who predicted 20 franchisees by the end of the year, with a further target of 200 stores.
Now that Williams has taken the plunge, the Co-op expects other Nisa retailers to follow, particularly those who are looking to retain ownership of their stores but to take a step back from the full-on day-to-day running of the business.
It also expects the model to grow across other universities. Newcastle University Student's Union director of commercial and operations Graham Hattam says the switch has been transformational.
"When we were looking to refurbish, we looked at different options and other wholesalers, but we went to see the first Co-op franchise at Leeds Uni and were really impressed by the Co-op product, the sales uplift and well-developed store."
That visit took place in March last year and the newly refurbed 2.500 sq ft Newcastle store was up and running by the start of the new academic year in September.
The store has been equipped with a much-expanded product range including a focus on food to go and bakery, and has 14 self-service checkouts.
Sales have increased by over 1,000% and where previously it employed a handful of staff, there are now 30 staff – 25 of whom are students.
The key for Hattam has been the support from the Co-op, which has seen dramatic improvements in availability, reduced wastage and range and trends advice.
"We are learning so much and it has freed us up to spend a lot more time on the shop floor, which has led to us being able to offer much better customer service."'s the