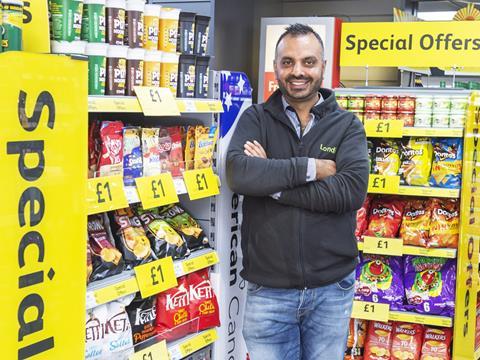 Londis has developed a new 'store of the future' model which looks to ramp up its value credentials, capitalise on healthy eating trends and become less reliant on falling tobacco sales.

Londis brand director Martin Swadling revealed the symbol group's strategy last week at retailer Pete Bhadal's Woodhouse street store in Leeds, which has seen a 25% sales increase with margins up 30% since reopening in March following a major refit.

New bright yellow PoS posters and shelf edge labelling are now displayed prominently in store to flag up product prices and value to consumers.

Londis has also rolled out an HTEC EPoS system which displays price promotions at the till and allows retailers to show personalised messages about what is happening within their community.

"If you saw the Him results this year Londis did really well, up on every score from the previous year, but the only area that we scored quite badly on was the consumer responses around value or perception of value," Londis brand director Martin Swadling told The Grocer, referencing Him's convenience tracking programme research published last month.

"Where possible in the window we've got stacks of our key promotions with a strong value message, we've got a digital screen that will shout about products and prices, and we've got a large poster for our mega deals. We've also got the rest of our promotions and meal deals on some visible PoS on the roadside as well."

Bhadal has also removed over 300 ambient lines of grocery across 10 bays to free up space and allow the store to focus on the core bestselling and on-trend products, and make browsing easier for shoppers.

Swadling explained that by ditching some lines of "tin and packet" groceries which were in decline in this new store format, Londis could provide more space for growing categories such as food to go and chilled. These changes triggered a 50% uplift in sales within the chilled and dairy category.

Londis is also looking to tap into the expanding healthy eating market, clearly highlighting product health benefits to consumers through SEL backers in a bid to drive up sales. For instance, stores now illustrate which drinks are sugar free following the implementation of the soft drinks levy earlier this year.

Protein is also flagged up with bright orange PoS as the category expands into shelves and even full bays, while the free-from category now has its own dedicated shelf in store.

Food to go also now features more prominently within the new format. Londis has installed a coffee station, introducing ice cold coffee, slushies and a hot food counter to cater to shoppers on the go.

The new format also encourages retailers to take out tobacco from the gantries behind the till and stock the products below the counter to free up space for more profitable lines such as vaping products and premium spirits.

Last month Londis was crowned symbol convenience retailer of the year at The Grocer Gold Awards.