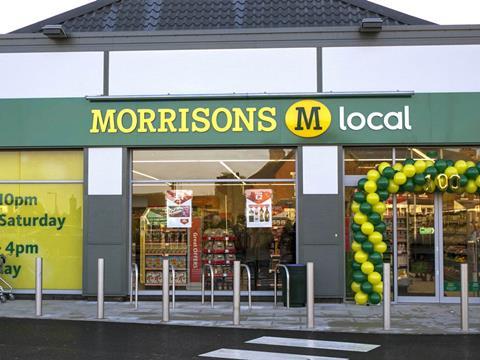 Convenience retail veteran Mike Greene is set to form a new convenience chain after securing the backing of private equity firm Greybull Capital to acquire from Morrisons its convenience stores, The Grocer understands.
Greene has been working on a deal to acquire the 150-strong M Local stores since at least Easter, industry sources with knowledge of the situation told The Grocer, after Morrisons CEO David Potts offered him exclusivity in return for taking it off his hands. A second source suggested Greybull was introduced to Greene to deliver the necessary funds.
A spokesman for Greybull was not able to confirm any details but Greene intends to create a new convenience brand and will look to supply the stores through one of the main wholesalers or buying groups. "Morrisons want their brands off the shops as quickly as possible. Mike thinks he can trade most of them better," said one leading industry source. "The Morrisons stores were not well run. Mike was quite bullish he could do it, confident he could get the stores' sales up substantially."
The source also warned that despite M Local not gaining a great deal of traction with shoppers, Greene would find it tough to establish a new brand.
"When Somerfield stores switched to the Co-op, sales went down. If you're switching ownership to a weaker brand, even with better management, sales can fall," he said. "Also some of those locations are not good. If you don't have a car park or footfall it's difficult."
However the venture is quite low risk for Greene as the potential deal looks set to leave Morrisons with the liability for the leases if the new venture fails. Some experts have suggested this could lead to a writedown of as much as £100m for Morrisons.
Meanwhile a senior finance source said Greene had a very strong partner in Greybull Capital and the private equity house's style was not "buy exit, buy exit".
"Greybull are five guys backed by family money," he said. "They have no funding cycles so they do what is right for the business - and when the time is right they will move it on; if not they will keep it. Their model is not driven by short-term returns."
Who is Mike Greene?
Mike Greene's first involvement in convenience came back in 1983 when he joined McColl's Retail Group as a store manager. After four years he left to join the development team at Spar UK, where he was instrumental in the evolution of the UK's first c-stores as we understand them today and helped create the group's 8 till late strategy. He then joined Circle K before being seconded to Shell UK where he helped develop the Shell Select retail concept in the early 1990s. A six-year stint followed with Jet as head of shops marketing for 200 company-owned forecourt stores.
In 2001 he joined Him! research and consulting as CEO before becoming co-owner two years later. A key element of the business was providing c-store operators with consumer insight. He sold it to William Reed, owners of The Grocer, in 2011.
Greene is also a two-time chairman of the ACS and has been a board member for 18 years. In 2011 he took part in the Channel 4 series The Secret Millionaire.