In 2008, the government announced it was going to ban supermarkets, newsagents, forecourts and independent retailers from displaying cigarettes.

Not surprisingly, there was uproar: the Tobacco Retailers Alliance warned the ban would see 2,600 shops close and 8,000 jobs lost. All protests fell on deaf ears.

In 2012, the supermarkets fell into line, while smaller shops were given until 6 April 2015 to comply to soften the blow. And it was important for them to get it right first time. Non-compliance was decreed a criminal offence, meaning hapless newsagents faced £5,000 fines, two years in prison, or both.

So six months after the display ban entered into force, what impact has it had on independent stores? It was a hot topic for so long, was it all a load of hot air? Or has the industry been hit by falling footfall, shrinking sales, whopping fines or prison sentences?

According to Him! the majority of independent retailers were opposed to the ban. Questioned in February and March, 48% were opposed to the display ban and just 16% in favour (the rest adopted a neutral stance).

At the time, their concerns mainly related to sales and footfall. After asking retailers the same questions in the post-ban period between May and October, Him! says for the majority nothing has changed, with 64% claiming the ban had a neutral effect on sales and 71% admitting the same about footfall.

However, that's still a sizeable number of retailers for whom the display ban has had a meaningful impact: 23% of retailers say the ban has had a negative effect on footfall and tobacco sales, according to Him! And perhaps most telling is the fact that, on average, tobacco sales are down 8%.

Further research for The Grocer (conducted in late September and early October by JWT) suggests the situation may be even worse: according to our barometer (see over) 36% of independent retailers said tobacco sales were down. Of these 35% say sales plunged by up to 30% and 4% said sales had halved. A further 36% said the drop off meant incremental sales also suffered. And for 21% footfall is down: either slightly (13%) or significantly (8%).

In August, discussing the illicit tobacco trade, Booker CEO Charles Wilson said the display ban was playing its part in a "perfect storm" hitting small shops in the pocket. Referring to a 1.2% drop in sales to independents, Wilson said it had been caused by the display ban along with "poor weather, and the strong exchange rate encouraging smokers to source more tobacco on the Continent. Add to that the growth of vaping, and those retailers with high tobacco dependency are almost certainly struggling."

Vaping

So how to offset losses? Vaping has helped some with that struggle. E-cigs were an obvious substitution for Nisa symbol member Paul Cheema, who installed a bespoke £1.2m e-cig gantry next to his tobacco gantry, complete with a 20-inch flat screen that runs explanatory videos on how the different e-cig options work.

"At the counter, consumers expect to see spirits, cigarettes, razors and batteries, so add to the category they're expecting to see anyway and you can an add on sales to the basket, which is going to give you a generous margin as well," he says.

Cheema has also seen a 9% rise in total sales of nicotine-based products (both e-cigs and classic cigarettes) since he installed the e-cig gantry in July "and it's growing. We're now doing education sessions in store in the evenings and have different brand owners in store talking to consumers about e-cigs. Now we've got the category solution it's about getting customers on to the right brand."
Prime space

Retailers are also missing a trick by not working the space hard enough, says Him!. "Since the display ban, a significant proportion of retailers perceive tobacco sales to have decreased," says Elyse Charvin, insights executive at Him!.

"This is a fantastic opportunity because the space behind the counter is highly visible to shoppers," she says. "While only one third of convenience shoppers smoke, 61% of shoppers said they have noticed that tobacco products are no longer visible in convenience stores. It is the ideal place to display products and advertise promotions."

Pre-ban, Him! says 50% of shops planned to leave the gantry blank; 22% had no idea what they were going to do. And just 26% planned to use the space for advertising. "This rang true when we questioned them after the display ban had come into effect," says Charvin, who says 49% have left gantries plain with just 20% using it to promote products.

It's a mistake, she suggests. "Suppliers could also be making the most of this space. "They could be taking advertising and even product display solutions to c-store retailers in order to maximise this new opportunity."

One way could be removing their existing gantry and replacing it with a vending machine solution.

When Australia introduced a display ban and plain packaging in 2012, business kicked in "big time" says Tony Hanning, UK MD of Vend Data media solutions, which supplies automated vending machines for cigarettes and tobacco products, complete with digital advertising screens on the front.

"Now in the UK we have the display ban, and plain packaging is on the way," he adds. "UK retailers know they have to do something different, particularly in a small store where the impact is bigger."

He says vending solutions offer greater stock control and visibility and speed everything up. "And you don't need to turn away from customers when they ask for a product," he adds. "Goodness knows what's happening behind your back if you're the only person serving."

Serving customers is "quick, efficient, easy and accurate," he claims. "And when it's linked up through the PoS the transaction is instant. Also, when plain packaging arrives there is potential for the wrong product to be served because they will all look alike. That risk is eliminated by our machines."

The data recorded by the system can also provide real-time insight into sales and automatically re-order stock. And the digital advertising screens can be used to advertise deals, from national promotions to store-specific campaigns.

"It's absolutely prime space," he adds. "And retailers are realising it is space that could be used to far greater effect than it has been in the past. We have around 15 units with screens in retailers at the moment. And we are entering pilot mode with a couple of the major convenience retailers. It's a new opportunity for advertising. And if you're a major UK retailer you're now in a position to negotiate with suppliers and implement your own media campaign behind the till."
Prison

As for the prospect of hapless indies being smacked with heavy fines or store managers banged up for a two-year spell in chokey, a spokesman for the Department of Health says he is "not aware of any prosecutions but colleagues at the Ministry of Justice will have the definitive position on court cases".

A spokeswoman for the Ministry of Justice says: "We don't have those results. You will need to submit a Freedom of Information request." The Grocer has done so and will update accordingly.

"We've heard nothing," says Chris Noice at the ACS. "As far as we are aware there has been no heavy-handed enforcement at this stage. We were told by the Department of Health and Trading Standards that rather than a zero tolerance approach - for instance, 'you have a packet of cigarettes poking out so we are going to prosecute you' - there would be a helpful approach. That, potentially, is what's happening."

So in the end, was it all a big fuss about nothing?

Cheema says no. Not because of the disruption, or the hassle - let alone the lost sales in some stores - but because it's a pointless law that hasn't made any difference to whether people smoke or not. Just where they buy their tobacco.

"The government needs to get out of their ivory tower and into stores and see what's going on," he says. "They talk about kids seeing bright packs of cigarettes and it entices them into smoking. What a load of nonsense! When it gets to 2017 with plain packaging, the government are just going to open the world up to smuggling so they'll lose a lot of revenue as well."

Noice says the fact the ban was staggered "helped a lot. And without wishing to blow our own trumpet, the work the ACS did around guidance, which was picked up by the DH and Trading Standards, meant compliance was high. We got over 2,000 calls in the two months before implementation."

And now it's here, arguably many retailers are all the better for it.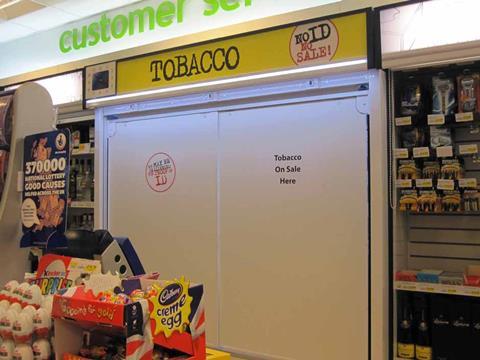 The war on tobacco advertising
1965: following a series of damaging scientific research into the negative effect of smoking, TV commercials are banned (although ads for cigars, like Hamlet, and loose tobacco were allowed to continue until 1991)
1971: government warnings started appearing on packaging. The warning was made sterner in 1991
1986: non-TV ads were prevented from showing people smoking
2002: in a clean sweep, the Tobacco Advertising and Promotion Act banned general advertising, promotions, sponsorship of sporting events, large adverts in shops, pubs or clubs and sponsoring or brand sharing at any major global events 2003: a new EU directive stated the warning must cover 30% of the pack.
2008: picture warnings were introduced to packs. By 2009, they were mandatory.
2012: a display ban was introduced at all stores over 2,800 sq ft
2015: the display ban was extended to convenience stores
2017: plain packaging is next, prompting fears of more illicit trade
Business barometer
Was implementing the shutters awkward?
● No 61%
● Yes 39%
Are tobacco sales down?
● No 64%
● Yes 36%
If yes, by how much?
● Up to 10% 61%
● Up to 30% 35%
● Up to 50% 4%
How has footfall been affected?
● Not at all 79%
● Slightly 13%
● Noticeably 8%
Have you noticed a dip in incremental sales?
● No 64%
● Yes 36%