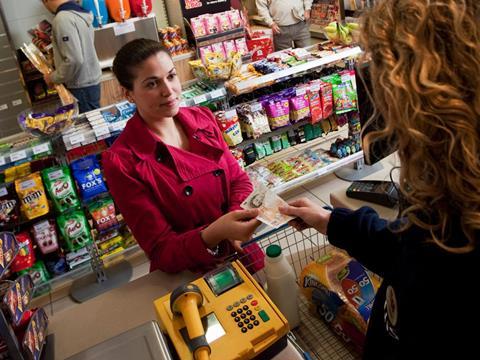 A number of convenience stores are to offer free cash withdrawals from the till with no purchase necessary in a trial spearheaded by Link and PayPoint to improve access to cash.
The million-pound pilot will run from October to April and will involve 15 shops across England, Scotland and Wales, including Burslem in Staffordshire, Hay-on-Wye in Powys, Cambuslang in South Lanarkshire and Denny in Falkirk.
Retailers taking part will be paid by PayPoint for providing the service.
Consumers will be able to ask for coins as well as notes from the retailer via a paypoint terminal rather than be restricted to the denominations of notes dispensed by ATMs.
Link, the UK's main ATM cash network, has invested £1m in the trial, which will be supported by a marketing campaign to raise consumer awareness of the new facility.
"The Association of Convenience Stores is very interested to see how this trial goes," said ACS CEO James Lowman. "Two-thirds of convenience stores already offer cashback, but it comes with limitations and operational challenges, mainly around security.
"Smart, secure, automated till safes could address this problem but they aren't that common yet. It's right that different options for maintaining access to cash are being looked at, but the best way to do this now is to properly fund the free-to-use ATM network through interchange fees from banks that make it viable to operate ATMs."
Link CEO John Howells said: "This is a first in the UK and could prove to be an important measure for keeping cash viable. Assuming consumers agree this is a useful new channel, it will be important that government and regulators create an effective regulatory framework to enable a full rollout."