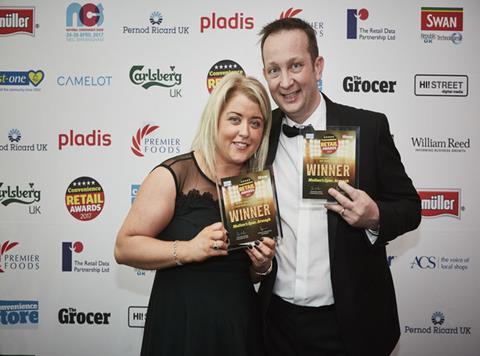 Mullan's Spar in Armagh, Northern Ireland has taken home the top prize at the 2017 Convenience Retail Awards, run by Convenience Store and The Grocer.

The store saw off stiff competition from rivals across the UK to clinch the Convenience Retailer of the Year 2017 title at the glittering awards ceremony in London last night (Thursday 16 March).

Owners Stephen and Donna Mullan impressed the judges with exceptional standards and points of difference, which includes their own brand of soups, stews and ready meals.

"To win this award means everything to us," said Donna Mullan.

"We've worked so hard for this and we would like to dedicate this to our staff who have been so devoted to us. This means the world to us and it makes all the hard work worth it.

"I think we won because we have been so devoted to our community and our staff and our shoppers, and we put our life into our store."

Convenience Store editor David Rees said: "Donna and Stephen run a tremendously impressive operation focused on high quality fresh food and food to go, combined with great service and community engagement. Their knowledge of, and commitment to, their local customers and their requirements is a key factor in their success, along with a relentless drive to constantly improve their offer."

Other major winners on the night included The Forge Shop Simply Fresh, Inkberrow, which was named Best Small Store; Spar Eat 17, Hackney, which won Best Large Store; and One Stop Woodhouse, Leeds, which won Best Multiple or Franchise Store.

In the special awards category, Spar Eat 17, Hackney, won both the Innovation award and the Best Communication to Shoppers award.

Manchester-based Spar retailer Paul Stone was named Retailer's Retailer of the Year.
The winners
Convenience Retailer of the Year

Mullan's Spar, Armagh

Best Independent Store

Mullan's Spar, Armagh

Best Small Store

The Forge Shop Simply Fresh, Inkberrow

Best Multiple Store

One Stop Woodhouse, Leeds

Best Large Store

Spar Eat 17, Hackney

Best New Store (Sponsored by Hi! Street Digital Media)

Classic Service Station Spar, Omagh

The winners - Special Awards

Best Chilled Food Retailer (Sponsored by Müller)

McBride's Spar Sligo Road, Enniskillen

Best Off Licence Store of the Year (Pernod Ricard UK)

Warner's Budgens, Moreton-in-Marsh

Food to Go Retailer of the Year (Urban Eat)

Warner's Budgens, Moreton-in-Marsh

Best Use of Technology (Zapper and Retail Data Partnership)

Costcutter Plodder Lane, Bolton

Best Customer Service (Bestway Wholesale)

Brownlie's Best-one, Biggar

Best Mealtime Missions Award (Premier Foods)

Co-op Welcome Frobisher House, Southampton

Innovation Award (Republic Technologies)

Spar Eat 17, Hackney

Community Retailer of the Year (Camelot)

Brownlie's Best-one, Biggar

Best Communication to Shoppers (Him! Research & Consulting)

Spar Eat 17, Hackney

Responsible Retailing Award (ACS)

Belle Vue Convenience Store, Middlesbrough

Energy Efficiency Award

Nisa Ardeer Services, Ayrshire

Product of the Year (Best-one)

Nestlé Kit Kat Cookie Dough

Retailer's Retailer of the Year (Pladis)

Paul Stone, Stone's Spar