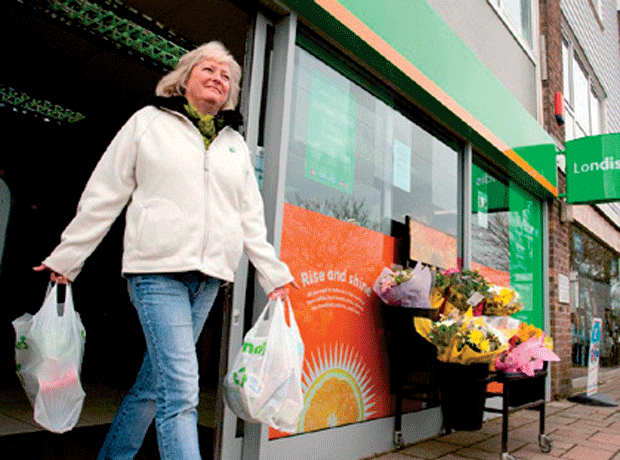 The National Federation of Newsagents pushed the government to extend the 5p plastic bag charge in England to cover small shops during a private meeting with rural affairs minister Rory Stewart this week.
A mandatory minimum 5p per bag charge came into effect on Monday for larger retailers, but small shops do not have to levy a fee.
Paul Baxter, NFRN chief executive, and Mike Mitchelson, its public affairs chairman, warned Stewart about the "adverse effect" the plastic bag levy would have on small businesses and the environment in the meeting at the Conservative party conference on Monday.
Mitchelson, who asked the minister to reconsider the plans, explained how small companies would be "burdened" by providing more carrier bags, free of charge, for fewer items than would be bought if customers shopped in a big supermarket.
"As a result, this will add an additional cost to retailers' businesses," he said.
Mitchelson acknowledged small business could choose to impose a charge voluntarily, but the NFRN feared many retailers that were supportive of the scheme would not participate because of the uncertainty about possibly losing out to their local competitors if they did.
"A universal rule removes uncertainty for all and maximises the environmental benefits," he said.
Mitchelson went on to explain the success of existing schemes in Wales, Scotland and Northern Ireland offered "an excellent example" of how the levy could work to include businesses of all sizes, having the best possible chance of achieving the aim of reducing the amount of single-use plastic carrier bags used.
The trade group said Stewart was "sympathetic" to its concerns and he said the NFRN's views would be taken into account when the legislation was reviewed.
The NFRN told The Grocer it did not think Stewart's response was a fob-off. A spokeswoman said that Baxter and Mitchelson felt he listened carefully and seemed to accept the arguments. "He gave them the time and they felt it was useful," she said.
A spokesman for the Association of Convenience Stores, which agrees with the NFRN's stance, said: "We are in favour of a universal scheme where all retailers charge for bags as is the case for Wales and Scotland."
Both organisations will have a long time to wait, however. The Department for the Environment and Rural Affairs told The Grocer the legislation would not be reviewed until 5 October 2020.