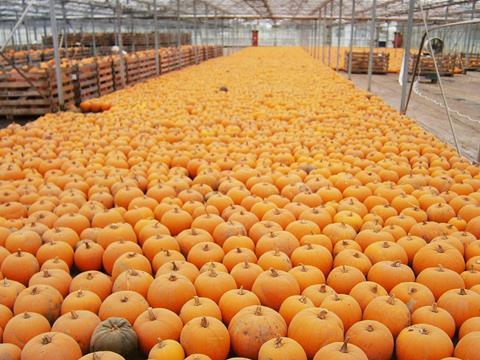 Budgens and Londis have promised they will not let lower pumpkin yields spook them, with 40,000 heading for stores to meet demand.
Fruit and vegetable supplier Barfoots told The Grocer yields would be about half of the originally planned crop because of heavy rain in August.
But Alisha Keveren, buyer for fresh produce for the two Booker Group formats, said growers had worked hard to bring it the best pumpkins they could and customers would be delighted with the quality.
"Pumpkins had increased in popularity over the past 10 years and sales were growing annually," said Keveren.
To reflect this Budgens and Londis will be stocking 10% more pumpkins than last year.
"Shoppers expect their local stores to stock everything they need for Halloween and we're delighted to provide a range of sizes to suit everyone."
Rob Grant, one of two brothers who run Bell Brothers Nurseries in Boston, Lincolnshire, will provide almost 2,000 Budgens and Londis stores with six varieties: Munchkin, Harvest Moon, Racer, Mars, Atlantic Giant and Monster Smash. The four inch-wide Munchkin variety is expected to prove most popular with shoppers this year.
"We'll be delivering pumpkins to Londis and Budgens throughout October, ensuring there are still plenty available for last-minute shoppers," he explained.