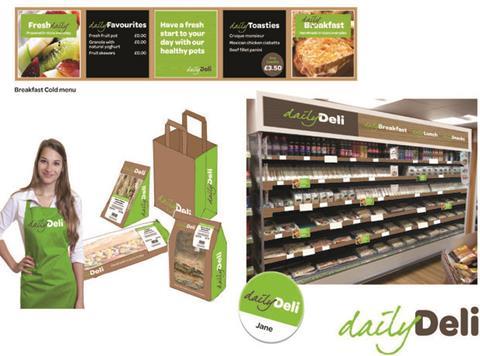 Spar looks poised to take a bite out of the deli market following a trial of Daily Deli at its Glenwell store in Belfast, Northern Ireland.
The Daily Deli range is available all day and includes fresh salad products, sandwiches, baguettes and accompaniments.
Spar Brand lunchtime range will become Daily Deli as part of the new concept which Spar said could be rolled out to stores across the UK if the trial proved successful.don
These will range from an entry-level offer comprising a self-service counter selling sandwiches, baguettes, chilled snacks and coffee, to a complete Daily Deli offer including a served counter selling hot meals, as well as a self-service option on the shop floor with sandwiches, baguettes, wraps, croissants and more.
Debbie Robinson, Spar UK managing director, said: "Daily Deli is Spar's answer to widening our presence in foodservice and giving our retailers more of an opportunity to offer foodservice in stores."
Foodservice was an area of increased focus within the convenience channel, as the two sectors continue to merge, she said.
"This year we are adapting to make the most of the trend for 'foodvenience'. Many of our Spar stores already offer great franchise partnerships with Subway, Costa Coffee, Insomnia, Starbucks, Greggs or indeed have created their own like Eat17 and the Cheeky Coffee Co. We are building on these collaborations and creating something new in-store for our customers to enjoy," said Robinson.