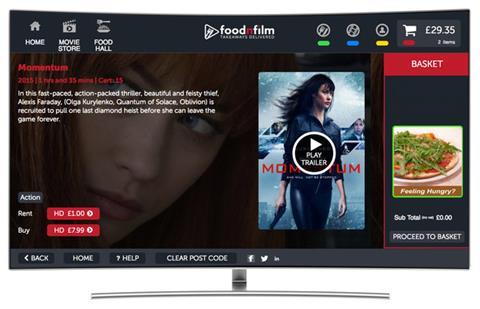 Convenience stores could be the first in the grocery sector to benefit from a TV app that allows people to place food orders while watching a movie.

Samsung is the second major TV manufacturer to adopt Foodnfilm on to its smart TVs with LG being officially announced last month. The t-commerce platform, available on over seven million smart TVs, provides access to thousands of restaurants and delivery companies across the UK.

The app, which was in development for over two years, has already signed deals with Andromeda, a systems integrator with over 2,000 online food delivery companies ranging from independents to popular brands such as Firezza and Papa John's. It also has signed up fine food mail order company Forman & Field and Bevy, a London company delivering drinks and snacks on-demand between 6pm to 6am.

Stephen Minall, head of food at Foodnfilm, told The Grocer to "watch this space" as it is "early days" but it would look to attract grocery and other sectors.

He said the system would work for independent c-store operators such as Nisa, Costcutter, Londis or Budgens that were looking to get into the delivery sector providing they have transport. The technology also offers more opportunity to sell products on the screen.

"T-commerce is beginning to catch on. You have a larger screen and higher definition photography and you can put a lot more content on than an iPad," he said.

Ben Portsmouth, co-founder and CEO of Andromeda, said: "We have had some interest from smaller off-licences and local grocery places. It is about how they can get extra revenue when they might be losing out to the bigger players and Amazon.

"The restaurants are the early adopters but I would say there is a space for that coffee and newspaper delivery that is needed quickly."

He admitted that one of the challenges facing grocery was that consumers are impatient and most grocery operators only deliver next day.