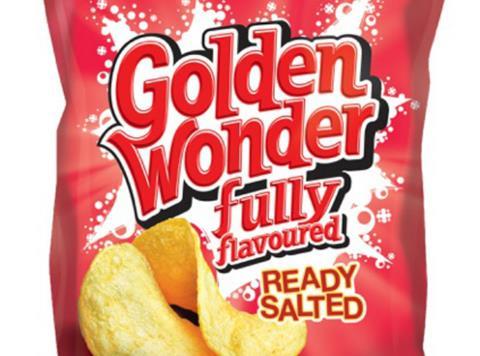 Golden Wonder has switched the colour of its salted crisp variant from blue to red to reflect the category norm as part of a brand overhaul.
The revamped portfolio is being rolled out now in heritage-inspired packaging, while flavours have been improved and the salt content reduced by up to 49% in a bid to meet FSA guidelines.
The change of pack colour for the brand's ready salted variant followed research that revealed four in five consumers associated the flavour with red. The brand's cheese & onion crisps will remain in green packs.
"Our customers were clear that we shouldn't change the pack colour on any other flavours," said marketing director Matthew Smith, adding Golden Wonder "believed all cheese & onion packs should be green and all salt & vinegar packs should be blue".
The relaunch is to be supported by TV and digital advertising.