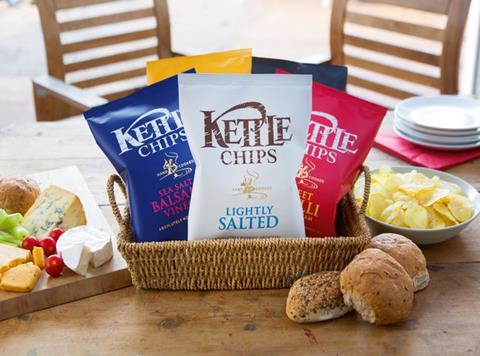 Shoppers are getting better deals on crisps as brands ramp up competition in the snacking aisles.

Kettle Chips this week blamed plummeting profits on "increasingly aggressive headline promotions" on crisps, which it claimed were putting "huge pressure" on margins.

And Kettle Chips isn't the only crisp brand facing deflation. Average crisp prices are down 4% year on year in the mults [Brand View 52 w/e 23 May 2016], with average prices for sharing bags down 4% to £1.66, multipacks down 6% to £1.61 and single bags down 1% from 97p to 96p.

There have been some particularly sharp price cuts on sharing bags, with Tesco knocking £1.10 off its range of Tyrrells 150g bags, down to £1.09, and Morrisons and Sainsbury's slashing the price for 150g bags of Kettle Chips in half to £1. Asda, meanwhile has cut a raft of Kettle Chips 150g bags from £1.98 a year ago to £1, while a 200g bag of Doritos Cool Original is down from £2.28 to £1.98 [Brand View].

Standout reductions on multipacks include Tesco and Morrisons cutting the price of Walkers 12x25g multipacks by 95p to £2, and Sainsbury's selling McCoy's 6x28.5g multipacks for £1 - 80p less than a year ago.

Indeed, most of the major crisp manufacturers have seen average prices fall across their branded ranges, although there were some exceptions, with average prices for Seabrook crisps and Pringle's both higher than this time last year.

Prices have been steadier on mults' own-label ranges. Though prices are down on some individual lines, the majority have stayed the same year on year. Notable exceptions include a 60p reduction in the price of some of Waitrose's handcooked lines, with 150g bags down from £1.60 to £1 over the past year, and several Tesco 6x25g multipacks, which have come down from 99p to 85p. The discounters have also largely held steady: for example, a 6x25g multipack of salt and vinegar crisps remains at 75p in both Aldi and Lidl.

In terms of promotional activity, the mults ran 7,694 deals on crisps over the past 12 months, most of which were Buy 2 For Discount (38.5%) and Save Amount (33.1%) deals. Tesco ran the most promotions, accounting for 25% of all deals.

Kettle Chips was the most promoted sharing pack brand, Walkers the most promoted multipack brand and Popchips the most promoted single pack, according to Brand View data.

The price cuts and increased promotional activity comes as nine of the UK's top 10 crisp brands suffered value declines last year, with Walkers' core crisps down 4.9% to £504.3m, McCoy's down 14.4% to £102.8m and Kettle Chips down 0.3% to £96.9m [IRI 52 w/e 27 February 2016]. Tyrrells was the only top 10 brand to grow value - up 19.9% to £56.8m. Spend on large multipack crisps fell 13.1% [Kantar Worldpanel 52 w/e 3 January 2016].