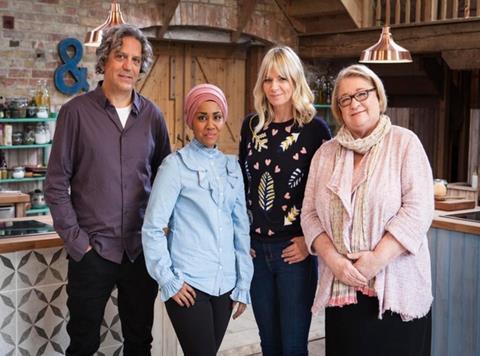 Like most people, I was crying into my oven gloves when the BBC lost the rights to host The Great British Bake Off. No Mel. No Sue. But worst of all, no more Mary. Tuesday evenings would never be the same again!

But then, like a rising soufflé, up pops The Big Family Cooking Showdown (BBC2, 15 August, 8pm). It's fronted by two female presenters, judged by a veteran cook and a silver-haired 50-something fox, as amateur cooks battle it out inside a makeshift kitchen. Sound familiar? Sadly, that's where the similarities end.

This 60-minute bore-off cookery contest pits two clans against each other in a trilogy of challenges based around home-cooked family favourites in a bid to impress the judges: Michelin-starred Italian chef Giorgio Locatelli (an elongated Paul Hollywood, minus the steely blue eyes and charm), and ever-delightful celebrity chef Rosemary Shrager.

Proceedings are overlooked by Mel and Sue tribute act Zoë Ball and Nadiya Hussain, who show about as much personality as a wooden spoon.

The opening episode saw a culinary battle between the Marks family, of Swedish origin, and the Charles family "who had travelled a lot". The Markses cooked up a bland fish soup and overcooked Swedish meatballs, while the Charleses opted for the family favourite of Bengali spiced chicken and fennel and lemon risotto.

But it's hard to care or build up any emotional connection with the contestants. The show lacks humour and charm. In trying so hard not to be like GBBO, the BBC has created a soufflé without any eggs.