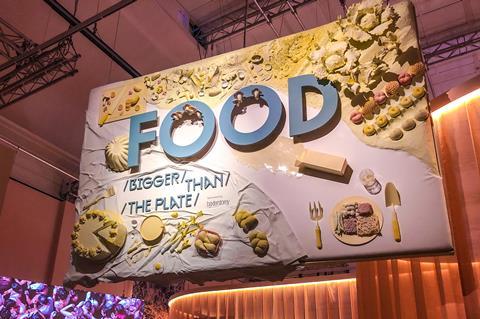 An art and design museum isn't perhaps the obvious choice for a food exhibition. But when you walk into the Victoria & Albert Museum's 'Food: Bigger than the Plate' exhibition, which opened on Saturday 18 May, you realise just how artistic food can be.
Visitors are able to walk through four sections labelled composting, farming, trading and eating – with exhibits ranging from the 'Sausage of the Future' to a collection of vintage biscuit tins.
One installation, in particular, illustrates the sustainability and circular economy idea by using waste coffee grounds, including grounds from the V&A's own café, to grow edible oyster mushrooms. Once fully grown, these will be harvested and served in the café.
Another highlight, which drew a laugh from more than one visitor, was 'Merdacotta' – a ceramic toilet made from surplus cow manure.
The material, Merdacotta, was the brainchild of Gianantonio Locatelli, a farmer and breeder of cattle. Locatelli wanted to make use of his cattle's manure, so he developed ways to extract energy, heat and fertiliser. The remaining solids are mixed with Tuscan clay to create Merdacotta, which is used for bricks, floor tiles and even tableware.
This exhibition is certainly interesting, and beautiful in its own way. It mimics the uneasy feeling one gets from contemporary surrealist art, and perhaps that is the point. After all, food waste and sustainability should make people feel uncomfortable. It is the only way we will act.