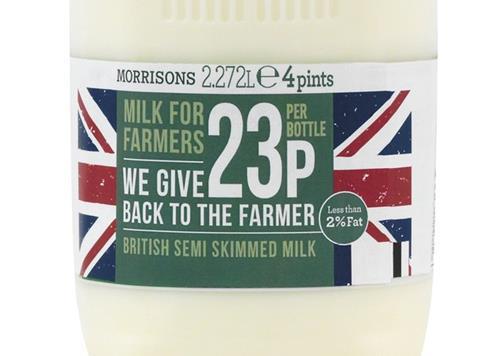 Morrisons' Milk for Farmers brand is on course to return £5m to farmers within a year if sales continue at launch rates, Arla has claimed.
Giving evidence at the Efra committee on farmgate prices, Ash Amirahmadi, vice president of milk and member services at Arla Foods UK, said the milk was selling seven times more than expected, with "all of that extra money going directly to farmers".
Amirahmadi said new YouGov research had "clearly demonstrated" that consumers still want to support farmers, and he believed they should be offered the choice to do so. "I wouldn't want to work in an industry where consumers can't have that choice," he said, adding that Arla would "welcome" any similar initiatives from other supermarkets.
Speaking earlier at the inquiry, Stephen Wyrill, national chairman of the Tenant Farmers' Association, and Paul Tompkins, dairy farmer at South Acre Farm, had complained dairy farmers were yet to feel any benefit from the Morrisons milk. However, Efra Committee chair Neil Parish MP pointed out it was still early days for the brand, and it would be fair to give Morrisons more time before casting judgement.
David Christensen, member of the Board of Representatives at Arla Foods UK, stressed the money still had to "flow down the chain" before farmers would start feeling the benefit.
The Efra committee hearing also covered milk pricing, the voluntary code, and the relationship between retailers, suppliers and processors.
Amirahmadi said retailers had made "strong efforts" to demonstrate to their customers that they were behaving ethically.
"Arla and the other processors have definitely benefited from that," he added.
A previous version of this article said £5m had been returned to farmers since launch a month ago. This has been amended to say £5m is predicted to be returned within a year if sales continue at launch rates.