The juggernaut of the cheese category is firmly back in the fast lane. After a minor blip in 2011, when growth slowed to 0.7%, sales of Cathedral City have surged past the £250m mark - aided by fresh innovation, including the new Selections adult snacking sub-brand, and a focus on high-growth sub-categories.

"We're starting to put more emphasis around different areas of our portfolio, so in the latest period we're seeing really strong performance in our lighter and extra mature propositions, which are going to be strong areas for us," says Cathedral City marketing manager Jackie Wilson. "We've got a really strong model that works for us and keeps delivering."

It's not just Cathedral City. Cheese brands in general delivered the goods in 2012, comfortably outperforming own label in spite of heightened pressure from commodity prices and the lasting legacy of last year's range reviews, in which a number of brands were axed for retailers' own lines. Many such brands - including Wyke Farms, Collier's Welsh Cheddar and Pilgrims Choice - have since been relisted indeed, Cheddar brands have performed particularly strongly, with four of the five brand leaders delivering double-digit value growth.

The standout performance of the top 20 has come from Pilgrims Choice, which achieved a stunning uplift in value and volume sales following repackaging and heavy TV advertising to support its relaunch. "The two brands that have grown in any major way are us and Cathedral City," acknowledges Alastair Jackson, marketing director for Pilgrims Choice owner Adams Foods. "They're the two that are being supported above the line."
"Commodity prices are very volatile and in the past 12 months there's been lots of inflation" Alastair Jackson, Adams Foods
The worst performer of the big five Cheddar brands in 2011, Pilgrims Choice used the £5m relaunch to reposition itself as 'the choosiest cheese company', highlighting its unique status as a buyer rather than manufacturer of cheese. "We were the biggest spending brand in the first half of the year on TV," says Jackson. "We've invested to try and have a conversation with consumers around why our brand is different rather than just selling it on deal. Next year for us is about bedding everything in, getting more distribution and building on our success this year."

Both Wyke Farms and First Milk's The Lake District Cheese Co brand also recorded strong growth. Wyke recently rebranded its portfolio in a bid to boost sales by more than 20% by the end of 2013. The new packaging aims to bring more consistency to Wyke's branding, with variants differentiated only by colour.

For First Milk, the launch of Lake District Cheese Co vintage Cheddar in February 2012 extended the overall reach of the brand and broadened consumer appeal, according to First Milk marketing director David Young. "We've always known we have an excellent proposition in the Lake District brand and that has allowed us to successfully broaden the range from mild to vintage, with grated and portions packs too. The development of the Lake District Cheddar range has allowed us to widen our consumer base and we will continue to add depth and interest to the range in 2013 and beyond."

With the first, second, fourth and fifth leading Cheddar brands delivering strong growth, third-placed Seriously Strong has found itself seriously squeezed out during a period in which it focused its investment away from its core block Cheddar. "We treat Seriously Strong as a brand across different cheese categories rather than just a Cheddar brand," says a Lactalis McLelland source. "This focus has led us to look at other ways of diversifying the Seriously Strong brand, such as through Seriously Spreadable and Seriously cheese sauce. We are focusing on growing the Seriously brand franchise rather than any one particular format."

One issue to have vexed cheese suppliers during the past year is rising input costs. "Commodity prices are very volatile and in the past 12 months there's been lots of inflation," says Jackson. Many Cheddar suppliers have opted to downsize their packs from 400g to 350g in an effort to keep price points acceptable to consumers. This has had a knock-on effect on volume sales of cheese, which fell in the past year. A shift in promotional activity from volume-led to value-led deals has also impacted on volumes, according to Nielsen.

As a whole, though, promotional activity increased in the past year, with spend on deal growing from 34% to 38%. "Both manufacturers and retailers have been the driving force behind the increased spend on deal, as they continue their search for the most effective promotional activity to drive incremental sales," says Nielsen client manager Falguni Patel.

Little wonder some suppliers fear the depth and breadth of promotions is making it increasingly difficult for brand owners to assess which are working and which aren't. After all, it's not just Cheddar brands dominating the promotional arena.

"If you go to any supermarket now, there is one cheese brand that is pretty much as visible as Cheddar in terms of promotions - Philadelphia," says one Cheddar supplier. "It's a very complicated promotional picture, and the strong position of Philadelphia on promotions is certainly giving us some food for thought. When you look at gondola ends, consumers now have a wide choice of cheese products on promotions."

Philadelphia has been one of the unarguable success stories of the cheese category in recent years, in double-digit growth once again thanks partly to a strategy of encouraging consumers to cook with Philly - and partly to NPD. Kraft capitalised on its acquisition of Cadbury by bringing together two big brands in February, when it rolled out Philadelphia with Cadbury, a range that was extended in August with the launch of a snacking product including mini oat biscuits for dipping.

Kraft's other cheese brand, Dairylea, has fared rather less well, despite undergoing a major reformulation program that stripped the brand back to seven 'all natural' ingredients. Along with Cheestrings, Dairylea is coming under severe pressure in the cheese snacking market from newcomers including Cathedral City's Chedds, which are pushing their natural credentials just as hard as their processed rivals.

Chedds currently sits just outside the top 20, having already recorded sales in excess of £7m since launching in July 2011. "Chedds' launch has been received well, with huge growth following through this year," says Patel.

"It does what it says on the tin," adds Wilson. "It's a simple proposition that plays to what the market wants and has driven incremental growth and value."

Elsewhere in snacking cheese, Bel UK's key brands have had mixed fortunes. Babybel achieved a 10.5% uplift in value sales, matched by a similar volume hike, but Laughing Cow, although it showed marginal value growth, suffered a 16.3% slump in volume sales.

Of the speciality cheese brands within the top 20, Arla Foods' Castello range was the star. Although sales fell short of Arla's target of £10m by 2013, last autumn's global relaunch had a positive effect on the brand, helping it accrue double-digit value and volume sales growth. Arla recently extended Castello to include two new cheeses made with milk from Jersey cows - a move the company hopes will entice new consumers into trying the brand.
TOP LAUNCH 2012
Philadelphia with Cadbury Kraft Foods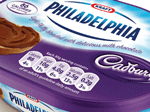 Combining two of the nation's favourite brands in one product was always likely to be a winner - and so it has proved for Kraft. Having sold more than 23.4 million units in just eight months, Philadelphia with Cadbury spread is already worth almost £7.5m, says the company. Kraft's competitive pricing and investment in above-the-line campaigns have been key to Choccy Phillly's growth, says Nielsen client manager Falguni Patel, as has its popularity with health-conscious consumers.