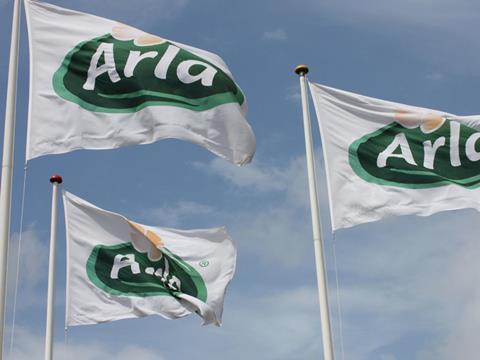 Arla has slashed its farmgate milk prices further, prompting the NFU to call for government action to support struggling dairy farmers.
The co-operative announced today it would cut the price it pays to UK members by 0.80ppl from 3 August, bringing its standard litre price to 23.01ppl.
Arla blamed the "downward price trend" across global milk markets, with high production and low demand from key markets such as China and Russia.
"These global developments are impacting all dairy markets throughout the world," said Ash Amirahmadi, head of UK milk and member services at Arla.
"While we are doing everything we can to further reduce our costs, grow our branded portfolio, launch the Arla brand into dairy, promote our farmer-owned status and work independently with each of our customers to find solutions to deal with market volatility, we simply cannot influence the macro factors."
NFU dairy board chairman Rob Harrison warned the outlook for dairy farmers was looking increasingly bleak and hundreds were "questioning their future in the industry".
"But we know this isn't a UK problem alone - dairy farmers across the world are suffering from milk prices far below the cost of production - we've seen protests in France and milk being thrown away in Canada and the US," he added.
He said the industry "desperately" needed the government's help and said it was "time for action", pointing out the French government has just announced support measures and financial backing for farmers.
"We also continue to meet with the major retailers, banks, foodservice companies and processors to urge for a fair, sustainable and transparent supply chain," he said.
"There's so much more that can be done to promote high-quality, traceable UK dairy products to help drive consumption."