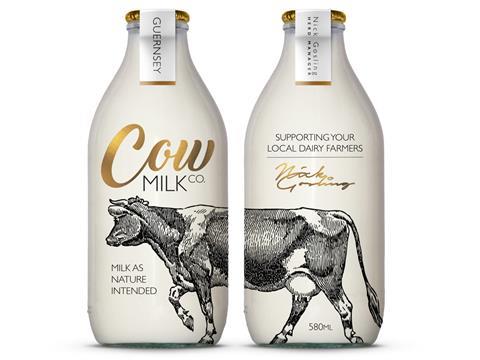 What constitutes a healthy diet? It turns out your age may well have some bearing on the answer you give, particularly when it comes to fat.
As we reveal in the latest edition of our '10 Things…' digital features series, there is a gulf emerging between the different demographics.
As some scientists claim saturated fats found in natural foods such as dairy, meat and eggs may not be as bad for our health as previously thought, the message is resonating with younger consumers.
Exclusive research for The Grocer found nearly one fifth of 25 to 34-year-olds rate whole milk the healthiest type of milk or milk alternative – compared with just 11% of those aged 55+ – and a third say they're willing to pay more for the milk as long as the farmers see the money.
This suggests there's a gap in the market. One for a foodie-orientated brand, full of life (and fat) to reinvigorate the milk aisles, and drive some much needed value.
Enter Cow Milk – a concept dreamt up by creative agency RPM to do just that. The retro design harks back to a simpler time, one when the milk was delivered straight to your doorstep in clinking glass bottles. You'd peel off the top to reveal a thick layer of cream – perfect for spooning off on to some perfectly ripe strawberries or homemade apple crumble. How's that for a hit of nostalgia?
But Cow Milk isn't all style and no substance – it's comes from Guernsey cows, renowned for producing some of the finest milk in the UK, and is processed to the bare minimum.
Although still a concept, the good stuff could come with a steep price tag of £1 a pint. Don't scoff just yet, though. It's not supposed to challenge everyday milk purchases for families working their way through 12 pints a week. It's about the experience, the indulgence, and helping support a farming industry in the midst of a crisis. That has got to be worth paying a little bit more for.