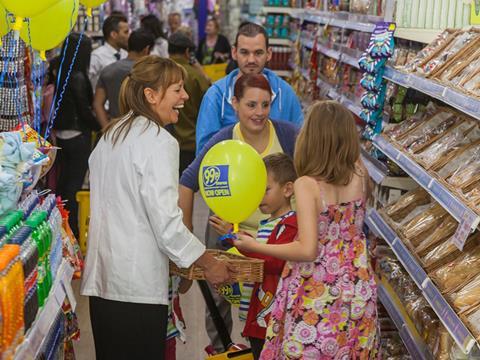 Never having been to Northampton before, I was worried I might not find 99p Stores' latest shop – its 250th, which opened yesterday. I shouldn't have worried. The strains of 2014 chart hits could be heard a quarter of a mile away and the DJ chanting to the waiting crowd was doing an invigorating countdown. Outside the store a man dressed as a packet of crisps was dancing along to "I Gotta Feeling"; I was ushered into the store past a lot of men in suits and under the store opening ribbon.
99p Stores' Abington Street branch is the first of a brand new concept for the chain: it has an in-store bakery; a ramped up fresh food offering; takeaway coffee; and a more spacious design. Certainly, it felt immediately lighter and brighter; the ceiling has been heightened and implanted with lines of small strip lights to soften the ambience.
The second thing I noticed was the smell of fresh bread. As the first 99p Store to introduce a bakery, I was pleasantly surprised by the range of items on offer. Two baguettes for 99p, soft rolls, sweet turnovers, crusty cinnamon swirls and buttery, flaky croissants were piled high in wicker baskets in the bakery section. By the end of my visit, after the store had been open for at least an hour, some of those baskets were looking a little empty. I'll put this down to heavy demand on opening day, rather than a significant shortfall in availability.
The aisles are wider than in an average store; I watched as a pushchair and a wheelchair travelled comfortably down the aisles next to each other, still leaving room for standing customers. There were members of friendly, smiling staff stationed at the end of each aisle who seemed keen to help out and islands of goods were stacked neatly with big-brand products like Heinz and Nescafe.
Despite the ample space, there was no escaping the feel of being channelled towards your destination – the checkout. When I got to the tills, I had no choice but to buy something or head all the way back in a zig-zag through the store.
For the first time, 99p Stores branding runs around the circumference of the store walls. Aisle markers are clear and informative – including the omnipresent "everything 99p or less" shelf stickers. There were also good-value promos thrown in – such as three cans of chickpeas for 99p.
The store is situated opposite a Poundland, and there are a further two 99p Stores in Northampton's city centre. Despite the size of the nearby 99p Store on Gold Street, the new Abington Street store with all of its bells and whistles seems well placed to get the attention of price-conscious shoppers.
Don't worry if you can't make the trip to Northampton to see 99p Stores' new concept; it has plans to refit 60 stores this year and roll out the concept more widely. "Although we're a single-price store we're becoming mainstream and we're doing that by creating a type of convenience store," COO Tony Brown told me.