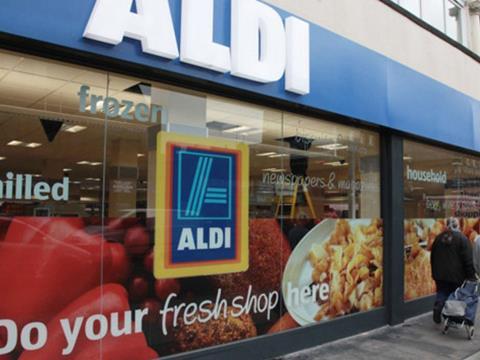 Aldi has become the first UK retailer to sign up to the National Farmers' Union's fruit and veg pledge, which aims to create a more transparent and profitable fresh produce supply chain.
The NFU said Aldi had adopted all 11 commitments on supply chain best practice in the pledge and had "gone even further" in some areas.
One of the most significant agreements is the retailer's pledge to fund all produce promotions itself and not run deals funded by growers, giving customers a good deal while paying growers a regular price week in week out.
Aldi has also agreed to do away with charges for late or missed deliveries or customer complaints – an issue which has been a huge cause of concern for the industry and sparked a Groceries Code Adjudicator investigation.
It has introduced simple net cost price agreements, with no back-margin mechanisms such as overriders or penalty rates, and has committed to stocking seasonal British fruit and veg.
Other agreements include being open to developing longer-term relationships with growers, improving planning and open communication, providing written contractual agreements and supporting a "wide and diverse supply base", giving smaller growers the chance to supply a major retailer.
The NFU launched its fruit and veg pledge three years ago after its Catalyst for Change report revealed that the UK was at risk of losing "huge swathes of British horticultural production" if profitability was not improved in the fresh produce supply chain.
NFU horticulture chairman Guy Poskitt said: "Aldi's response to our pledge clearly details the integrity, honesty and openness of its business, and highlights its commitment to long-term supply relationships, equitable distribution of reward along the supply chain and fair and respectful trading relationships."
"We know that there are other retailers who have best practice measures in place and we are keen to discuss how they can make a pledge, but we want to applaud Aldi for being the first to do so publicly and committing to the key all the asks our pledge – including price certainty, long term relationships, seasonal British produce and above all, a healthy sustainable supply chain that works fairly for the supplier, retailer and consumer."
Tony Baines, managing director of buying at Aldi, said: "As a long-standing supporter of British farmers, Aldi is proud to back the NFU's Fruit and Veg Pledge. True to our family values, we treat growers and packers across the UK equally and fairly. This allows us to build long-term and sustainable relationships with them, which in turn enables our customers to benefit from unbeatable prices and quality.
"The transparency and fairness with which we treat all our suppliers was recently recognised by the Groceries Code Adjudicator's annual supplier survey, which named Aldi as the best performing grocery retailer for compliance."
The NFU is now calling on other retailers to follow Aldi's lead and also sign up to the pledge.