B&M, Aldi and Frozen Value grew their portfolios by double digits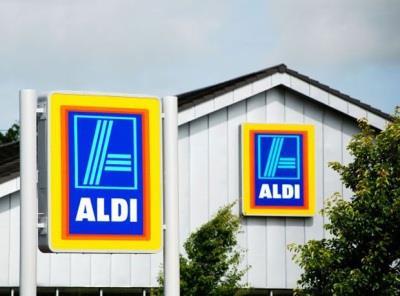 Convenience is the sector everyone is talking about, but the supermarket space race is far from over, according to this year's Grocery Retail Structure.

The number of supermarkets (stores between 3,000 sq ft and 25,000 sq ft) grew 5.2% from 7,144 in 2012 to 7,513 this year, the annual GRS, compiled by William Reed Business Media and IGD reveals.

In contrast, the c-store sector grew by just 1.1% to 41,670 shops, as the headlong incursion into this market by multiples and symbol conversions, were offset by a 411-store reduction in the number of unaffiliated c-stores.

So is the space race over? It might be for Tesco, but many of the discounters grew their store portfolios by double-digit percentages in the past year. B&M Bargains upped its estate by 68% to 324 stores. Other big movers included Heron Foods (+33%) following its acquisition of Cooltrader last year, Aldi (+17.5%) and frozen Value, which trades as Fultons Foods and Jack Fulton (+16%).

Surprisingly, big boxes are also in growth, despite pledges by retailers such as Tesco to focus on smaller stores. The number of superstores (25,000 to 60,000 sq ft) grew 2.6% from 1,442 to 1,480, while hypermarkets (over 60,000 sq ft) grew 5.5% from 366 to 386 stores.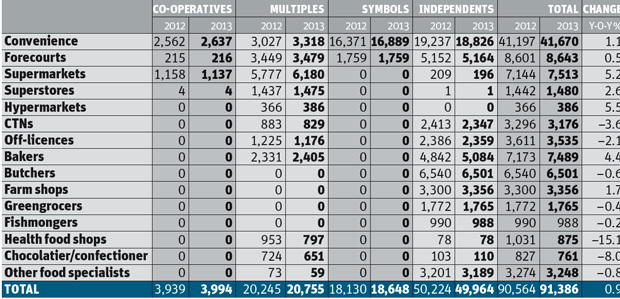 Tesco and Sainsbury's both added eight hypermarkets to their portfolios in the past year - but in both cases they were largely extensions to superstores rather than new-builds.

In its annual results last week, Sainsbury's revealed it extended eight stores in the year to 16 March to allow it to "bring our increasingly popular clothing and general merchandise ranges to more customers".

But Sainsbury's is still opening new hypermarkets. In October, a 60,000 sq ft supermarket in the Caldewgate area of Carlisle. "The store has given a major regeneration boost to this area of the city," said CEO Justin King, "creating around 300 new local jobs, increased parking provision and brought a petrol filling station to the area."

Although independently owned stores have 45% of the market, shops owned by indies fell by 260 to 49,964 in the past 12 months. But those run by multiple operators - classed as any company that owns 10 stores or more - added 510 stores to reach 20,755 stores.

As revealed by The Grocer last week, the number of unaffiliated independent c-stores continues to fall - from 19,237 in 2012 to 18,826 this year. The number of indie-run CTNs (-2.7%), off-licences (-1.13%), butchers (-0.6%), greengrocers (-0.4%) and fishmongers (-0.2%) are also all in decline.

Multiple CTNs (-6.1%) and off-licences (-4%) also fell. The number of health food shops fell 15.1% due to the collapse of Julian Graves in July 2012, while chocolatiers fell 8% due to Thorntons' decision to close 85 shops.

But some traditional sectors are bucking the trend. The number of bakers rose 4.4% to 7,489 last year, fuelled by the success of the BBC's The Great British Bake Off, which picked up a TV Bafta this week. With locality and provenance still high on the agenda, farm shops continue to do well, too - up 1.7% to 3,356 stores in the past year.