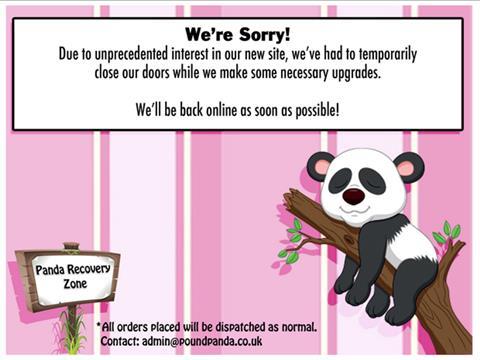 One of three online pound shops to have launched this month has already closed down after struggling to cope with website traffic.
PoundPanda.co.uk was suspended by its owner and is now displaying a "temporarily closed" message. The single price e-tailer, which launched on 7 February with a range of 2,000 products and a £3.95 flat delivery charge, confirmed in a message posted to the site that it is now in the process of "integrating necessary upgrades" after closing due to "unprecedented interest".
"Independent online single price retailers will struggle to make a profit and get the delivery costs to work out," admitted Conlumino's Neil Saunders. "They lack the sourcing and buying power a Poundworld can draw from and that is starting to show."
PoundPanda, which operates out of a 100,000 sq ft depot in Manchester, declined to comment.
Rival Hereforapound, which launched on 3 February, said it generated £28,000 sales in its first week. Standard and next-day delivery costs had subsequently been reduced by £1 to £3.50 and £5.99 respectively. It is running a promotion this week allowing free delivery on orders over £20, breaking its usual £30 minimum.
Poundshop.com, the online arm of Poundworld, was temporarily knocked offline on its launch day last week after seeing a surge in demand from web users.