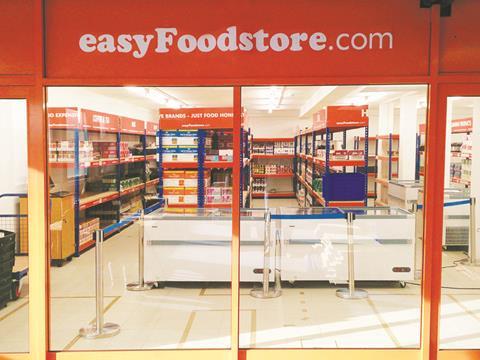 EasyGroup entrepreneur Sir Stelios Haji-Ioannou still harbours ambitions for a chain of EasyFoodstores "dotted around the country", The Grocer has learned.

Two years after launch, a store in Park Royal, north west London, in an EasyBus depot off the Hanger Lane gyratory, is still the sole unit, opening for limited hours and selling a small range of dry and ambient SKUs such as chicken curry and whisky marmalade at the rock bottom price of 25p.

"We are not making money but we're not losing a lot either. It's a building we own. We are making a margin on some products but on most we are losing money and Stelios is philanthropically minded to take that on the chin," said director of communications Richard Shackleton.

He emphasised, however, that the long-term ambition would be for "a high-volume, low-margin food retail store selling non-perishable items dotted around the country".

The momentum for expansion had stalled because of fast-changing developments in the retail market. "If you are trying to look for a niche, the niche keeps moving around. That's essentially the problem. When the market stabilises, we can get an idea and we can then develop the product."

Sir Stelios first revealed plans to launch a grocery business in August 2013 but it was not until 30 months later that the 750 sq ft Park Royal outlet opened, only to close temporarily after two days when it exhausted its stocks from wholesalers Bestway and Booker.

It increased the standard price of its products to 29p for a short time before returning to 25p, which it said was "part of a continued campaign against rip-off pricing".

Shackleton said customers tended to be pensioners, and people on benefits and on zero-hour contracts who had the flexibility to be able to shop during the 10am-5pm weekday opening hours.